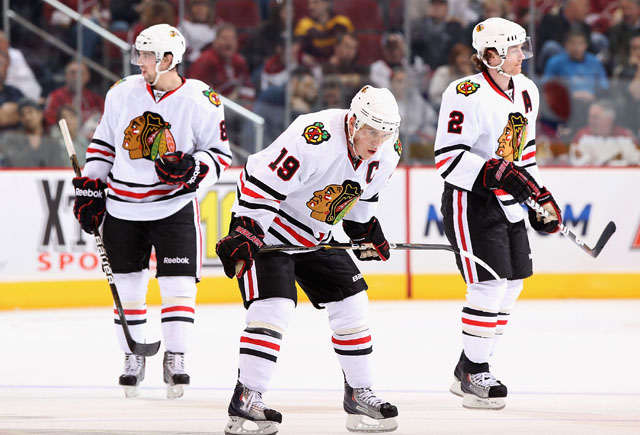 While the Hawks picked the absolute worst time to thud last night in Dallas, it will hardly qualify as a crippling blow to their playoff hopes.
What it does do is up the degree of difficulty. The last three weeks of the Hawks season is a daunting affair, starting with Sunday's road game in Phoenix where they haven't won in two years. They get a breather on the return home to face the Panthers, although that didn't go so well when they saw them in Florida, did it? But after that? Eight games in two weeks with two back to back against teams that are either really good or give the Hawks a really hard time. It won't be fun.
The Hawks realistically need about 12 more points to guarantee a playoff berth. That only requires a record of 6-5 in the last 11. But just getting in should be below the Hawks aims. A 7 or 8 seed means seeing Detroit or Vancouver in the first round, and if you did pull what would be considered an upset you'd get the other one next. That's a lot to ask just to reach a Conference Final. So if the Hawks need 14 or 16 more points? Going 7-4 or 8-3 with this schedule is like trying to take the SAT's during an acid flashback. And I should know, I did it.
So what do the other teams have?
Anaheim - @LA, v. CAL, @DAL, @NSH, @CHI, v. COL, @CAL, @SJ, v DAL, v SJ, v LA, @LA
No team gets more cracks at their competition than the Ducks will over the home stretch. But that may not be a good thing as they're barely .500 against their own division, who they will be seeing a lot of. And this team was fading already.
Calgary - @LA, @ANA, @SJ, @EDM, v. ANA, @STL, @COL, v. EDM, v. VAN
The Flames are in a difficult position as they have basically two less games to play than everyone else, meaning they can get passed or gained on and they won't be able to do much about it. Having only three home games isn't good either. as they're only .500 away from Alberta. And while they get a couple cracks at dregs Colorado and Edmonton, the Oilers are a blood rival and anything can happen in those games.
Nashville - v. DET, @BUF, v. EDM,v. ANA, v. DAL, v. VAN, @COL, v. DET, v. ATL, v. CBJ, @STL
The team that should scare us most, with all those home games, where they are 18-8-7. Two tilts against a pretty complacent Detroit team, and looks at the Thrashers, Jackets, and Blues who are all finished. Watch for the Preds to shoot up these standings, as their great goaltending couldn't possibly let them hit too much of a skid.
I'll be back later to take a look at the Kings, Coyotes, and Stars, as well as the Hawks.