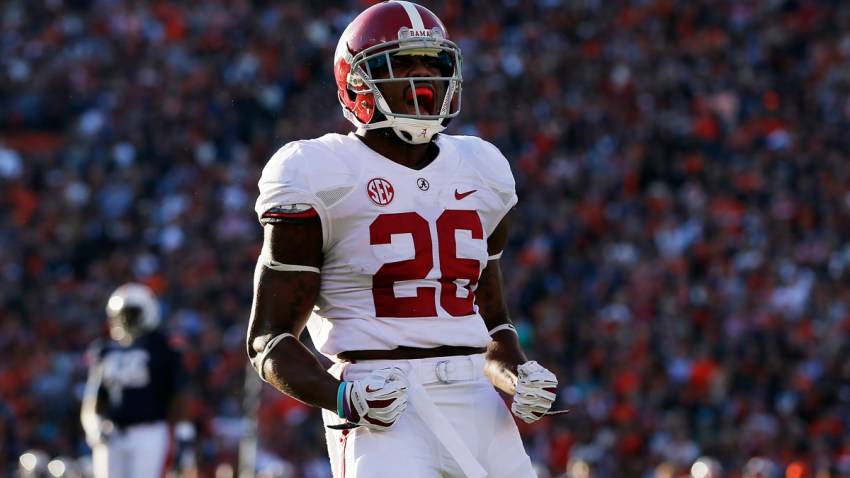 Over the next couple of weeks, we will profile 10 of the players that the Chicago Bears could be eye-balling with the No. 7 overall pick in the 2015 NFL Draft. We will evaluate where they would fit with the Bears, what teams could potentially pick them off ahead of Chicago and ultimately whether we feel the Bears should take them.
So as not to spoil our mock draft, we'll go alphabetically through the list and continue today with University of Alabama safety Landon Collins.
The Details:
Collins is a good-sized player for a safety, standing 6-foot-0 and weighing 228 pounds, but that doesn't mean he's some plodding player seeking out contact. He is really quick in space, and his 87 tackles and three interceptions for the Crimson Tide show just how good he is at the position. He's the top available safety in the draft, and he could potentially be an NFL star.
What He'd Bring to the Bears:
The Bears did bring in Antrel Rolle with a three-year contract and they drafted Brock Vereen last year, but adding Collins would help further bolster the team over the top as they restructure their defense. Adding someone of Collins' speed and ferocity would be a big boost to the team, and having him play under the tutelage of Rolle would be a really smart move for a team that has had trouble developing defensive prospects over the past few years.
Other Teams That Could Target Him:
Collins is currently projecting as a mid-round pick, so it appears that the Bears would have a clear path to take him if they so wished. Washington could potentially reach on him in the fifth spot as they badly need help in their secondary, but with teams like the Jets and Jaguars likely focusing on other positions of need, Collins should be there for the taking.
Should the Bears Take Him?
The Bears have a huge list of needs, so they would probably be better off waiting to take Collins if they can trade back in the first round. If they're stuck at No. 7, however, they should probably pass. Collins is going to be a really good NFL player if his college tape is accurate to his skill level, but with the game-changers available in the pass rush and the potential to get a game-breaking wide receiver, the Bears should probably focus elsewhere unless they can move back.