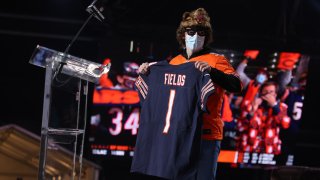 For the first time since 2018, the Chicago Bears owned a pick in the first round of the NFL Draft, and they made a massive splash, moving up to the number 11 spot to select Justin Fields out of the Ohio State University.
The Bears moved up nine spots to make the selection, trading with the New York Giants. In exchange, the Bears gave up their number 20 pick and a fifth round pick in 2021, along with a 2022 first round pick and a fourth round pick in next year's draft.
Here are the latest headlines from Cleveland:
Bears' Justin Fields Says No Chip on Shoulder as 4th QB Drafted
Justin Fields is now the quarterback of the future for the Chicago Bears. General manager Ryan Pace traded up to the New York GIants' 11th overall pick to take Fields.
But Fields was the fourth quarterback drafted this year. Clemson's Trevor Lawrence, BYU's Zach Wilson and North Dakota State's Trey Lance went one, two three to kick off the night.
Does Fields feel slighted by being the fourth quarterback off the board? Is there a chip on his shoulder now?
"No, not really," Fields told reporters Thursday night.
The Bears have seen quarterbacks they've passed on used that slight as motivation. Kansas City Chiefs quarterback Patrick Mahomes counted to 10 on his fingers after scoring against Chicago, a reference to the Bears picking Mitch Trubisky over him.
"I mean I've gone through situations where I haven't been chosen and I think the world has seen the outcome of that," Fields said. "But my goal now is not to worry about those teams. Those teams have nothing to do with me. My goal is to you know if we play that team, to beat them.
"So I'm not worried about the draft. The draft is over for me. For me personally, I'm ready to get to work."
It's a professional answer, though I'm sure some fans would hope Fields would carry a bit of a chip ala Mahomes. Or like Minnesota Vikings legend Randy Moss did against the Dallas Cowboys when he caught three touchdown passes as a rookie in the Thanksgiving Day showdown.
"I'm the kind of guy that thinks that everything happens for a reason," Fields said. "I think this is God's plan for me to be a Bear, so I'm more than excited and I'm more than ready to get up there."
Under Center Podcast: Bears Draft Justin Fields Instant Reaction
The Chicago Bears made a splash in the 2021 NFL Draft. General manager Ryan Pace traded up from No. 20 to No. 11 to select Ohio State quarterback Justin Fields.
And needless to say, fans are excited.
That includes the Under Center Podcast crew. Host Ken Davis, Eric Strobel and producer Tony Gill all reacted in real-time to the Bears trade and pick of Fields.
For Bears fans it feels like a lot of quarterback miscues have been healed but only time will tell.
Bears Draft Justin Fields: Fans Hyped on Twitter
Interested to see how Bears fans feel about the move to draft Justin Fields? Needless to say.....they have OPINIONS.
Bears Select Justin Fields No. 11 Overall at 2021 NFL Draft: Instant Analysis
The Chicago Bears had a first-round pick in the NFL Draft for the first time since 2018. And the Bears used that to pick Justin Fields with the 11th overall pick after trading up.
This is the Bears' first draft pick in the first round of the NFL Draft since 2018, when Chicago selected Georgia linebacker Roquan Smith. The Bears' 2019 and 2020 NFL Draft picks went to the then Oakland Raiders in a trade for pass rusher Khalil Mack.
NBC Sports Chicago's Adam Hoge provided his instant analysis of the selection here.
Bears Trade Up to No. 11 Pick, Select Quarterback Justin Fields Out of Ohio State
The Chicago Bears traded up to the number 11 spot in the NFL Draft, swapping selections with the New York Giants to select quarterback Justin Fields out of Ohio State.
Fields completed 70.2% of his passes during his junior season at Ohio State, throwing for 2,100 yards and 22 touchdowns. He also threw six interceptions on 225 attempts in eight games.
Fields made a massive statement on the big stage during the College Football Playoff semifinal against Clemson, throwing for six touchdowns and 385 yards against the Tigers. Fields suffered an injury during the national title game against Alabama, throwing for 194 yards and a touchdown.
In exchange, the Bears sent their number 20 pick this year, a fifth round pick in the 2021 NFL Draft, and a fourth round pick in the 2022 draft.
NFL Draft 2021: Bears Reportedly 'Badly' Want to Trade Up for QB
Does Ryan Pace have another draft day trade up his sleeve? According to CBS Sports' Jonathan Jones, the Bears are working the phones trying to find a trade partner to move up in the first round.
"Sources have told me the Bears 'badly' want to move up from pick No. 20, and the only reason you'd give away that much future draft capital is for a franchise quarterback," Jones wrote on Thursday morning. "Now, a veteran-laden team like the Bears could use those picks down the road, and it could cause the Bears trouble in the coming years if the quarterback doesn't pan out. But GM Ryan Pace needs to get a quarterback in the first two rounds, and it may be Fields up top or Kellen Mond later."
Jones says there's one pick and one player to look out for that could increase the odds of moving up to snag a quarterback.
"If Fields is available after the Bengals pick at No. 5, I think the Bears or Patriots could move up to get him," Jones wrote.
Bears Fans on Twitter Are Loving the Aaron Rodgers-Packers Feud
Green Bay Packers quarterback Aaron Rodgers wants out of Wisconsin. And just south of the border, Chicago Bears fans are rejoicing.
Rodgers has tormented the Bears over the course of his career. He's 20-5 against Chicago. He's thrown 55 touchdowns against the Bears, the most of any team he has played against.
And while the Bears and Packers are in the same division so they play twice a year, don't forget the Detroit Lions also play Aaron Rodgers twice a year and have given up nine fewer touchdown passes.
So obviously, fans would love nothing more than Rodgers to leave the Packers, as you can see in this story.
Packers' Aaron Rodgers Reportedly Wants Out of Green Bay
Well, all might not be great in Wisconsin for the NFC North Champions. Green Bay Packers quarterback Aaron Rodgers reportedly wants to play for a new team.
And that's music to Chicago Bears fans.
At the very least, Aaron Rodgers leaving the division is a plus for Chicago. In the most ideal of worlds, if Rodgers was released he'd pull a Brett Favre and come to the Bears to torment his former team.
And solve a city's decades long quarterback problem in the process.
According to Adam Schefter,Packers team president Mark Murphy, general manager Brian Gutekunst and head coach Matt LaFleur are all aware of Rdogers' desire to leave.
This all stems from the Packers trading up to draft quarterback Jordan Love in the first round of the 2020 NFL Draft.
Gutekunst reiterated the Packers' commitment to Rodgers.
NFL Draft 2021: 3 Bold Predictions for Bears, Ryan Pace
The NFL Draft is finally here, but there are still a few more hours for some last minute (exhausting) speculation. NBC Sports Chicago's Adam Hoge has three bold predictions for the day.