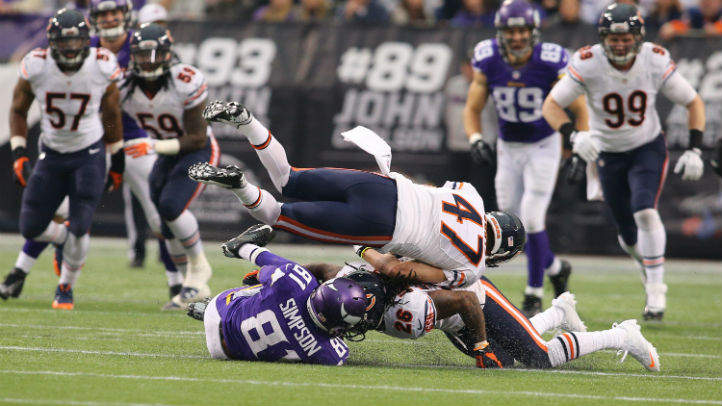 The Chicago Bears have a little more at stake than just divisional bragging rights when it comes to their battle with the Minnesota Vikings Sunday.
The team will take the field on Sunday afternoon at Mall of America Field and will also be trying to keep pace with the Detroit Lions in the NFC North race. Not to mention they'll be trying to keep up with the teams they are chasing in the Wild Card race, including the Cardinals, Panthers, and 49'ers.
We'll be watching the game, will you?
We're chatting about the game right here, offering updates and asking you questions, and we want to hear what you have to say!
Share your thoughts in the comments section below or join us on Facebook and Twitter.

#Vikings win on 34 yd FG in OT — Peggy Kusinski (@peggykusinski) December 1, 2013
#Bears Robbie Gould MISSED — Peggy Kusinski (@peggykusinski) December 1, 2013
#Vikings call timeout to ice #bears @RobbieGould09 on 47 yd attempt. Gould arrived in MN 6:30am after birth of son last night — Peggy Kusinski (@peggykusinski) December 1, 2013
#bears @RobbieGould09 now will try a 47 yd FGA — Peggy Kusinski (@peggykusinski) December 1, 2013
#Vikings miss a 57 yd FGA, #Bears ball — Peggy Kusinski (@peggykusinski) December 1, 2013
NFCNorth cannot have another tied game! Can it? — Peggy Kusinski (@peggykusinski) December 1, 2013
#Bears Gould's attempt is short Patterson returns missed FG begore tackled with no time left. Overtime — Peggy Kusinski (@peggykusinski) December 1, 2013
Earl Bennett gets out of bounds at 48 yd line :02 left @robbiegould09 66 yd attempt — Peggy Kusinski (@peggykusinski) December 1, 2013
#Bears @D_Hest23 returns kickoff to the 50 — Peggy Kusinski (@peggykusinski) December 1, 2013
With :20 left #Vikings FG ties game with #Bears — Peggy Kusinski (@peggykusinski) December 1, 2013
After turning ball over in the redzone, and a bad taunting call, #Bears get an interception returned +49 yds @Khas_Greene20 #CantMakeitUp — Peggy Kusinski (@peggykusinski) December 1, 2013
UNDISCIPLINED move by #Bears @JonBostic stops 3vikings Ford on 3rd & 7. Gets called for taunting & #Vikings new set of downs from 6 yd line — Peggy Kusinski (@peggykusinski) December 1, 2013
ugly turn of events, McCown avoids sack flips ball off a #Vikings player & into Kyle Long's hands who fumbles. MN recovers in redzone — Peggy Kusinski (@peggykusinski) December 1, 2013
(function(d, s, id) { var js, fjs = d.getElementsByTagName(s)[0]; if (d.getElementById(id)) return; js = d.createElement(s); js.id = id; js.src = "//connect.facebook.net/en_US/all.js#xfbml=1"; fjs.parentNode.insertBefore(js, fjs); }(document, 'script', 'facebook-jssdk'));
With touchdown catches like the two he had in the 3rd, is Alshon Jeffery the Bears' MVP? We're chatting here http://t.co/HTnuove23w — Grizzly Detail (@Grizzly_Detail) December 1, 2013
After Alshon Jeffery's TD catch, Chris Cook was ejected from the game for bumping an official in the end zone. — Grizzly Detail (@Grizzly_Detail) December 1, 2013
#Bears @AJJeffery1 is the FIRST PLAYER IN FRANCHISE HISTORY with a pair of 2 hundred yard receiving games — Peggy Kusinski (@peggykusinski) December 1, 2013
amazing catch by @AJJeffery1 strong hands - for a 46 yd TD. Now has 9 catches for 215 yards. 3 yards off his own franchise record set Wk5 — Peggy Kusinski (@peggykusinski) December 1, 2013
The Vikings have ruled out Christian Ponder for the rest of the game with a concussion. Matt Cassel takes over. — John Clayton (@ClaytonESPN) December 1, 2013
#Bears @AJJeffery1 showed why his teammates call him "Daddy Long Legs" on that 80 yard touchdown. 13-7 chicago leads 2 plays into 3Q — Peggy Kusinski (@peggykusinski) December 1, 2013
Alshon Jeffery has been doing some great work against the Vikings today. Is he the Bears' MVP this season? — Grizzly Detail (@Grizzly_Detail) December 1, 2013
(function(d, s, id) { var js, fjs = d.getElementsByTagName(s)[0]; if (d.getElementById(id)) return; js = d.createElement(s); js.id = id; js.src = "//connect.facebook.net/en_US/all.js#xfbml=1"; fjs.parentNode.insertBefore(js, fjs); }(document, 'script', 'facebook-jssdk'));
What adjustments do the #Bears need to make at halftime in order to beat the #Vikings? We're chatting here http://t.co/Ob63vanNib — Grizzly Detail (@Grizzly_Detail) December 1, 2013
after that last 3rd down incompletion where Ponder was hit by McClellin & James Anderson - #Vikings QB now being looked at for concussion — Peggy Kusinski (@peggykusinski) December 1, 2013
#Bears @RobbieGould09 40 yd FG with 2:47 left 1st half. #Vikings lead cut to 7-6 — Peggy Kusinski (@peggykusinski) December 1, 2013
#Bears @MartysaurusRex is back in game — Peggy Kusinski (@peggykusinski) December 1, 2013
#Bears @MartysaurusRex collided on route & completion to Jeffery. Bennett hurt on field — Peggy Kusinski (@peggykusinski) December 1, 2013
that 90 yard touchdown drive by #Vikings is their longest of the year — Peggy Kusinski (@peggykusinski) December 1, 2013
#Vikings Patterson takes pitch backk 33 yards for Touchdown, weak tackle attempt by Steltz opens door. #Bears trail 7-3 — Peggy Kusinski (@peggykusinski) December 1, 2013
#Bears sticking with @PAEA92 & @JayRat90 inside, Peppers & @CoreyWootton outside. D-Line with 3 sacks so far 1st half — Peggy Kusinski (@peggykusinski) December 1, 2013
(function(d, s, id) { var js, fjs = d.getElementsByTagName(s)[0]; if (d.getElementById(id)) return; js = d.createElement(s); js.id = id; js.src = "//connect.facebook.net/en_US/all.js#xfbml=1"; fjs.parentNode.insertBefore(js, fjs); }(document, 'script', 'facebook-jssdk'));
#Bears @RobbieGould09 30yd FG gives Chgo a 3-0 lead. Martellus Bennett offensive PI pushed back (BMarshall unnecessary roughness declined) — Peggy Kusinski (@peggykusinski) December 1, 2013
#Bears McCown Innterception by Greenway called back on #Vikings penalty — Peggy Kusinski (@peggykusinski) December 1, 2013
#Bears HC Trestman successfully challenges the 20 yard completion. — Peggy Kusinski (@peggykusinski) December 1, 2013
#Bears Defense gets another sack split between @PAEA92 (1st game back from turf toe) & @IFrey_28 — Peggy Kusinski (@peggykusinski) December 1, 2013
#Bears needed to stay disciplined (1 penalty already), start fast (def. sack & forced punt on 1st drive), now sustain long drive by Offense — Peggy Kusinski (@peggykusinski) December 1, 2013
like #Blackhawks @DuncanKeith did, now #Bears @RobbieGould09 arrived in MN 6am after his wife gave birth to 1st child - a son last night — Peggy Kusinski (@peggykusinski) December 1, 2013


Bears Gameday: Three Keys to a Chicago Victory vs. Vikings http://t.co/3KrxQ29eJ4 — Grizzly Detail (@Grizzly_Detail) December 1, 2013
(function(d, s, id) { var js, fjs = d.getElementsByTagName(s)[0]; if (d.getElementById(id)) return; js = d.createElement(s); js.id = id; js.src = "//connect.facebook.net/en_US/all.js#xfbml=1"; fjs.parentNode.insertBefore(js, fjs); }(document, 'script', 'facebook-jssdk'));