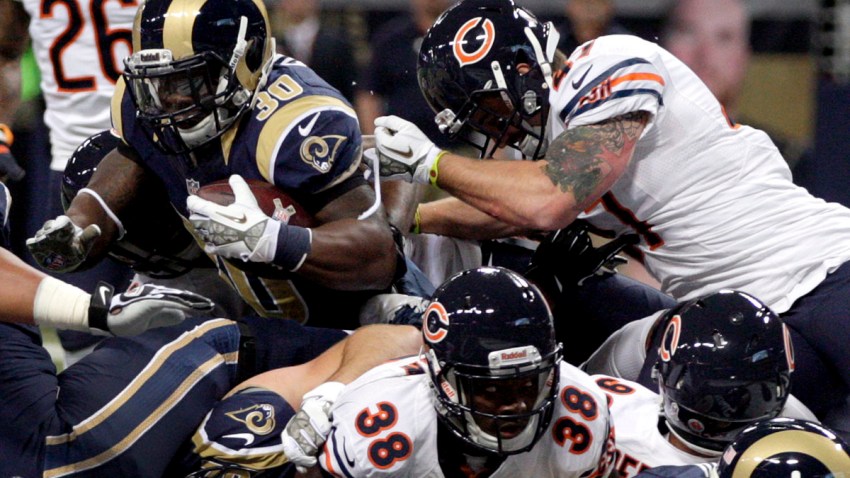 The Chicago Bears are set to take on the St. Louis Rams Sunday afternoon.
We'll be watching the game, will you?
We're chatting about the game right here, offering updates and asking you questions, and we want to hear what you have to say!
Share your thoughts in the comments section below or join us on Facebook and Twitter.
(function(d, s, id) { var js, fjs = d.getElementsByTagName(s)[0]; if (d.getElementById(id)) return; js = d.createElement(s); js.id = id; js.src = "//connect.facebook.net/en_US/all.js#xfbml=1"; fjs.parentNode.insertBefore(js, fjs); }(document, 'script', 'facebook-jssdk'));
#Bears give up a 9 yard touchdown to backup RB Benny Cunningham. — Peggy Kusinski (@peggykusinski) November 24, 2013
That was an absurd penalty on the Rams for roughing the passer, but the #Bears finally get the TD. This has been a weird game. — Grizzly Detail (@Grizzly_Detail) November 24, 2013
took #Bears 7 tries to get in the endzone from the 1 yard line or less before Michael Bush finally gets touchdown. 27-21 #Rams lead is 6 — Peggy Kusinski (@peggykusinski) November 24, 2013
#Bears McCown BLISTERED on 3rd & 1 at 1 yd line, Fumbles, whistled dead by personal foul roughing passer — Peggy Kusinski (@peggykusinski) November 24, 2013
#Bears @MattForte22 13 yard Touchdown now under review - looks like his elbow was down at 1 yd line — Peggy Kusinski (@peggykusinski) November 24, 2013
this time #Rams shoot self in foot with holding penalty on goalline, #Bears new set of downs at 1/2 yd line ... again — Peggy Kusinski (@peggykusinski) November 24, 2013
#Bears @D_Hest23 cannot believe it, bends down with head down. That was the record right there. — Peggy Kusinski (@peggykusinski) November 24, 2013
#Bears fans in crowd chanting "Bull^&*%" on holding call on Hester's would be record return TD — Peggy Kusinski (@peggykusinski) November 24, 2013
(function(d, s, id) { var js, fjs = d.getElementsByTagName(s)[0]; if (d.getElementById(id)) return; js = d.createElement(s); js.id = id; js.src = "//connect.facebook.net/en_US/all.js#xfbml=1"; fjs.parentNode.insertBefore(js, fjs); }(document, 'script', 'facebook-jssdk'));
#Rams starting Guard Chris Williams will not return (former #Bear) — Peggy Kusinski (@peggykusinski) November 24, 2013
#Bears Trestman goes for it on 4th & goal from 1 yd line, Michael Bush tackled for loss - didn't have a chance. No points. #Rams lead is 10 — Peggy Kusinski (@peggykusinski) November 24, 2013
#Bears HC Trestman tells @ZachZaidman its just a matter of time before the #Rams turn the ball over — Peggy Kusinski (@peggykusinski) November 24, 2013
Can Josh McCown and the #Bears pull off another second half comeback? We're chatting here: http://t.co/lY2vApi4ps — Grizzly Detail (@Grizzly_Detail) November 24, 2013
this game is LONG pardon the pun! Halftime is here #Rams lead #Bears 24-14 — Peggy Kusinski (@peggykusinski) November 24, 2013
(function(d, s, id) { var js, fjs = d.getElementsByTagName(s)[0]; if (d.getElementById(id)) return; js = d.createElement(s); js.id = id; js.src = "//connect.facebook.net/en_US/all.js#xfbml=1"; fjs.parentNode.insertBefore(js, fjs); }(document, 'script', 'facebook-jssdk'));
with :30 to play in 1st half, trailing by 10, #Bears with back to back run plays for lost yards — Peggy Kusinski (@peggykusinski) November 24, 2013
Again folks, there is NO foul for leaving the bench area. Period. — Mike Pereira (@MikePereira) November 24, 2013
After reviewing the CHI-STL fracas again, I think it's safe to say Kyle Long is lucky he didn't get ejected - though he whiffed on the kick — Mike Pereira (@MikePereira) November 24, 2013
Great composure by the Bears to overcome the silly penalty from Bennett to convert the touchdown on a great throw from McCown to Marshall — Grizzly Detail (@Grizzly_Detail) November 24, 2013
#Bears Forte on delay hand off, spins opposite for Touchdown, but called back on Earl Bennett tackle in the back — Peggy Kusinski (@peggykusinski) November 24, 2013

many in Edward Jones Dome wanted #Bears Kyle Long ejected for tomahawk kick that didn't connect. He stays. 15 yd penalty vs #Bears — Peggy Kusinski (@peggykusinski) November 24, 2013
Refs rule: McCown Intentional grounding, Fiametta facemask, Kyle Long personal foul unnecessary roughness with man on ground. 15 yds — Peggy Kusinski (@peggykusinski) November 24, 2013
Melee breaks out after dead/loose ball, Fiametta facemask, Kyle Long jumps on #Rams Hayes, Chris Long jumps in melee to pull Kyle off. FLAGS — Peggy Kusinski (@peggykusinski) November 24, 2013
(function(d, s, id) { var js, fjs = d.getElementsByTagName(s)[0]; if (d.getElementById(id)) return; js = d.createElement(s); js.id = id; js.src = "//connect.facebook.net/en_US/all.js#xfbml=1"; fjs.parentNode.insertBefore(js, fjs); }(document, 'script', 'facebook-jssdk'));
After giving up three 1st quarter TD's, which #Bears defensive player needs to step up? We're chatting @nbcchicago http://t.co/KyIBsPoWsj — Grizzly Detail (@Grizzly_Detail) November 24, 2013
#Bears entered the game with the NFL's 31st ranked rushing defense (129.4 yards per game). #Rams already w/123 rushing yards. — Jeff Dickerson (@ESPNChiBears) November 24, 2013
#Rams Cook wide open after he puts a move on @JonBostic easy touchdown & 21-7 St. Louis lead over #Bears — Peggy Kusinski (@peggykusinski) November 24, 2013
#Bears run defense leaves gaping hole for #Rams Stacy, 35 yard run to Chicago 6 yd line — Peggy Kusinski (@peggykusinski) November 24, 2013
McCown to @MartysaurusRex muscles & hangs on for a touchdown, cuts #rams lead 14-7. @MattForte22 58 yards after initial TFL-4 on drive — Peggy Kusinski (@peggykusinski) November 24, 2013
#Bears getting into nice offensive rhythm here, mixing up runs and pass looks. That's a must to keep those speedy Rams ends off-balance. — Grizzly Detail (@Grizzly_Detail) November 24, 2013
The #Bears have not learned their lesson from last week's penaltyfest, and a third down penalty gives the Rams an easy touchdown. — Grizzly Detail (@Grizzly_Detail) November 24, 2013
#Rams jump out to 14-0 lead on #Bears still 12 1/2 minutes left 1st quarter! — Peggy Kusinski (@peggykusinski) November 24, 2013
pass interference by Chris Conte on 3rd & goal, #Rams score on new set of downs with 1 yd run Stacy — Peggy Kusinski (@peggykusinski) November 24, 2013
#Bears @JonBostic hurt on #Rams running play, helped off field & being tended to by team doctor before getting up & jogging & bending — Peggy Kusinski (@peggykusinski) November 24, 2013
Forte really didn't have the ball out that far there. Just a tremendous play by the Rams. — Grizzly Detail (@Grizzly_Detail) November 24, 2013
#Bears another poor start; Forte fumbles on 1st play 1st offensive series, #Rams recover on 7 yd line — Peggy Kusinski (@peggykusinski) November 24, 2013
Even with those #Bears errors, the Rams have to be given credit for their great downfield blocking. — Grizzly Detail (@Grizzly_Detail) November 24, 2013
#Rams @Tayaustin01 on pitchback, completely turns around to change direction in backfield & races 65 yards untouched TD on 3rd play of game. — Peggy Kusinski (@peggykusinski) November 24, 2013
just prior to #Rams player introductions, Fans in Dome start chanting "Let's go Bears, Let's go Bears" — Peggy Kusinski (@peggykusinski) November 24, 2013
(function(d, s, id) { var js, fjs = d.getElementsByTagName(s)[0]; if (d.getElementById(id)) return; js = d.createElement(s); js.id = id; js.src = "//connect.facebook.net/en_US/all.js#xfbml=1"; fjs.parentNode.insertBefore(js, fjs); }(document, 'script', 'facebook-jssdk'));
(function(d, s, id) { var js, fjs = d.getElementsByTagName(s)[0]; if (d.getElementById(id)) return; js = d.createElement(s); js.id = id; js.src = "//connect.facebook.net/en_US/all.js#xfbml=1"; fjs.parentNode.insertBefore(js, fjs); }(document, 'script', 'facebook-jssdk'));
Bears' special teams must stay disciplined against potent #Rams http://t.co/AwEKZRAduJ — Grizzly Detail (@Grizzly_Detail) November 22, 2013
#Rams RB Zac Stacy presents formidable challenge for #Bears http://t.co/TpxGhA7gvH — Grizzly Detail (@Grizzly_Detail) November 22, 2013