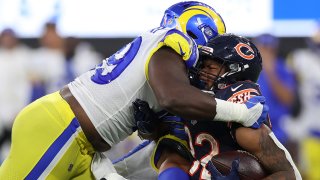 The Chicago Bears had an opportunity to make a big statement on a national stage Sunday night, but their defense frequently struggled in a 34-14 Week 1 loss to the Los Angeles Rams.
Matthew Stafford, acquired in the offseason in a blockbuster trade, had a strong night, going 20-of-26 for 321 yards and three touchdowns in the game. Cooper Kupp hauled in seven passes for 108 yards and a touchdown, and Robert Woods and Van Jefferson each chipped in with touchdown catches in the victory.
David Montgomery rushed for 108 yards in the opener for the Bears, while Justin Fields scored a touchdown as he played a handful of snaps in his NFL debut. Andy Dalton threw for 206 yards and an interception in his Bears debut.
The Bears got off to a hot start in the game thanks to a long kick return by rookie Khalil Herbert, and Montgomery reeled off a 41-yard run to start their drive. Unfortunately the drive ended abruptly when Dalton's pass to the end zone was picked off by David Long Jr.
Three plays later, the Rams got on the board, as Stafford found Jefferson for a 67-yard touchdown pass to give Los Angeles a 7-0 lead.
The Bears would turn the ball over twice more in the first quarter, turning the ball over on downs on their second drive on an incomplete pass from Dalton, and on another fourth down play when Dalton fumbled the ball and the Rams recovered.
The Rams got a pair of field goals from Matthew Gay, and led 13-0 in the second quarter.
The Bears got on the board late in the first half with a nine-play, 55-yard touchdown drive. Montgomery capped off a strong drive with a three-yard touchdown dive, putting the Bears within striking distance with a 13-7 deficit at halftime.
Unfortunately for the Bears, the Rams showed no hesitation in scoring to open the second half, with Kupp hauling in a 56-yard touchdown pass within the first minute of action to give Los Angeles a 20-7 lead.
Another lengthy Bears drive paid dividends, as Fields scored his first career touchdown to cap off a 16-play, 81-yard scoring drive, cutting the Rams' lead to 20-14.
The Bears' defense simply could not handle the Rams' onslaught, with Darrell Henderson Jr. scoring a rushing touchdown and Woods making an acrobatic catch in the back of the end zone to help Los Angeles pull away.
The Bears will be back in action on Sunday when they welcome the Cincinnati Bengals to Soldier Field for their home opener.
Here was our live blog of the game.
Bears Fail to Convert on 4th-and-15, Remain Behind in 4th Quarter
The Bears opted to try to go for a 4th-and-15 play in the fourth quarter, but Dalton can't find Darnell Mooney, and the Bears turn the ball over on downs.
Larry Borom Doubtful to Return; David Montgomery Back in Game
Offensive lineman Larry Borom is doubtful to return with an ankle injury, but David Montgomery has returned to the game after appearing to suffer a hand injury earlier in the contest.
Meanwhile, the Bears trail 27-14 after three quarters, with Darrell Henderson Jr. scoring a touchdown late in the third quarter for the Rams.
Justin Fields Scores First Career Touchdown
On his fourth snap of the game, Justin Fields has his first career touchdown, rushing in for a score to complete a lengthy and positive drive for the Bears.
JP Holtz did the hard work in picking up multiple blocks, and Fields absorbs a couple of hits to dive into the end zone and to bring the Bears to within a 20-14 margin.
David Montgomery, Larry Borom Out of Game for Bears
The Bears, down 20-7, have suffered two more injuries on offense. David Montgomery, who has rushed for 95 yards in the game, suffered an apparent hand injury, and went back to the locker room.
2021 draft pick Larry Borom, in for the injured Jason Peters at left tackle, is also hurt after his legs were cut out from underneath him on a freak collision at the line.
David Montgomery Scores Late Touchdown, Brings Bears Within 6 Points
The Bears put together a nine-play, 55-yard drive to score their first touchdown of the season, with David Montgomery punching the ball in with 34 seconds to go in the half.
The Bears trail 13-7 at halftime, with the Rams set to get the ball first to start the second half.
Starting Left Tackle Jason Peters Leaves Game
Bears Force Three-and-Out by Rams, but Still Trail by 13
Andy Dalton is currently 10-of-14 in the game for 69 yards, but he has thrown an interception and lost a fumble in the game, and the Bears trail 13-0 with less than five minutes to go in the first half.
Justin Fields has been on the field for two snaps, completing a pass and feeding a handoff to Marquise Goodwin, who was stuffed by Rams defensive back Jalen Ramsey.
David Montgomery is having a solid evening, with five carries for 61 yards so far in the game.
Bears Turn Over Ball on Downs, Leading to Rams Field Goal
The Bears' offense is stymied near midfield, with Andy Dalton's attempted pass to Allen Robinson being knocked away to force a turnover on downs.
The defense managed to keep the Rams at bay, with Jaylon Johnson making a nice play along the sidelines to keep Van Jefferson from having a chance to make a play on the ball and to force the Rams to settle for a long Matthew Gay field goal. It's now a 10-0 game.
Stafford Strikes for Long Touchdown Pass to Give Rams the Lead
It didn't take long for the Rams to get on the board, as Matthew Stafford fires a 67-yard touchdown pass to Van Jefferson to give Los Angeles a 7-0 lead.
Justin Fields Makes NFL Debut, While Andy Dalton Picks Up First Bears INT
The Bears got off to a hot start with the ball, with Khalil Herbert reeling off a 50-yard kick return and David Montgomery sprinting out for a 41-yard pickup on the ground.
Justin Fields made his NFL debut on the first drive, throwing a nine-yard completion to Marquise Goodwin, but Andy Dalton is picked off on third down in the red zone, and the Bears go away empty handed.
Bears vs. Rams: Eddie Goldman Out, Khalil Mack in for Chicago Sunday
The Chicago Bears will be without one of their key players on defense Sunday night against the Los Angeles Rams, but they did get good news on the inactive front, as both Khalil Mack and Darnell Mooney will suit up for the game.
Defensive tackle Eddie Goldman, who sat out last season due to COVID concerns, will not play against the Rams. Goldman suffered an injury during practice this week, and was listed as doubtful on the final injury report Friday. He did not travel with the team to Los Angeles.
Seven of the eight Bears players who were listed as questionable for the game will suit up on Sunday, including linebacker Mack, who was dealing with a groin injury, and wide receiver Mooney, who was a full participant in practice Friday after dealing with a back ailment.
Both linebacker Robert Quinn and safety Tashaun Gipson Sr. were listed as questionable with back ailments, but both will suit up for the Bears.
Chicago Sports Teams Wish Bears Luck Ahead of Regular Season Opener
The Chicago Bears will kick off their 2021 season against the Los Angeles Rams on Sunday night, and their fellow Windy City sports teams are wishing them luck on the upcoming campaign.
The Bears, who have been to the playoffs two of the last three seasons, will open up their season under the national spotlight, playing the Rams on NBC's "Sunday Night Football."
Ahead of the primetime tilt, Chicago's teams gave their well wishes to the Monsters of the Midway.
Bears Reportedly Have Plays for Justin Fields If Andy Dalton Struggles
The Chicago Bears are prepared to play rookie quarterback Justin Fields tonight if Andy Dalton struggles, per a report from NFL Network's Ian Rapoport.
"For these Chicago Bears, this is Andy Daton's team, he is the starter. However, based on what Justin Fields did in the preseason, based on his readiness, I'm also told there is a small package of plays at Fields' disposal," Rapoport said. "If Andy Dalton does great, you may not see it. If he struggles a little bit, do not be surprised if the Bears unveil a little bit of Justin Fields tonight."
Rams head coach Sean McVay was already preparing for this scenario.
"I think it would be naive for us not to prepare for them to be able to utilize him in some form or fashion," McVay told the media earlier this week.
McVay added: "Andy Dalton's a really good quarterback and he'll be a great challenge. And then you see the ways that Justin (Fields) made a lot of plays going back to his career at Ohio State (and) what he showed in the preseason. So, I think you got to be ready for either or, but it's going to be challenge, for sure."
Bears vs. Rams: 5 Key Players to Watch on Sunday Night Football
After a long offseason, the Chicago Bears are finally set to kick off the 2021 campaign, which they will do Sunday night against the Los Angeles Rams at SoFi Stadium.
The Bears, who were knocked out of the postseason by the New Orleans Saints in the NFC Wild Card Round, are hoping to make it three out of four this season, and that road starts in the City of Angels live on NBC 5.
Before the game starts, here are our five key players to watch in the contest.