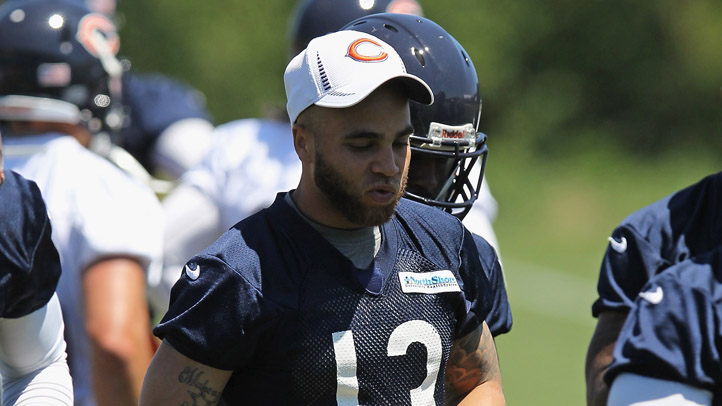 It was a gruesome injury.
Bears wide receiver Johnny Knox was hit so fiercely during the season that he cracked his spinal column last December.
The sight of Knox getting carted off on a stretcher with a neck board had many wondering if he'd ever play football again.
Now nearly 10 months later the Bears wide receiver remains optimistic his football career is not over.
"No, not at all that hasn't even crossed my mind" Knox said Friday sitting at his locker at Halas Hall. He is obviously thinner than his playing weight of a year ago, but Knox is jogging, pulling sleds and doing some weight work with his team. Motivated by the words of his doctors who told him he would play football again.
Bears teammates make Knox a part of the team in meetings and in social situations, still it's tough not being a part of the most explosive offenses in Bears history.
"Its hard sitting back there watching, there's been some ups and downs" Knox admitted, "but the significant thing that I've been getting out of it is we've been winning and everybody's happy so that motivates me to get back out there."
Knox is eligible to come off the PUP list after week six when the Bears have a bye. Then he can start practicing and the team will have some time to evaluate his progress and make a decision: put him on injured reserve, activate him, waive or release him. The move is key to Knox's football future since his rookie contract expires this season.
Is Knox worried? "No I feel real good, real positive" Knox assured, "I still keep my faith knowing that i will come out on top in this situation."
Update: The Bears want to clarify PUP rules.
Once a player starts practicing he can be activated (moved to the 53-man roster) at any time during the next 21 days. If he is not activated by the end of that 21-day period he must remain on PUP for the season. A player does not have to pass a physical to start practicing but would have to pass a physical to be put on the active 53-man roster.