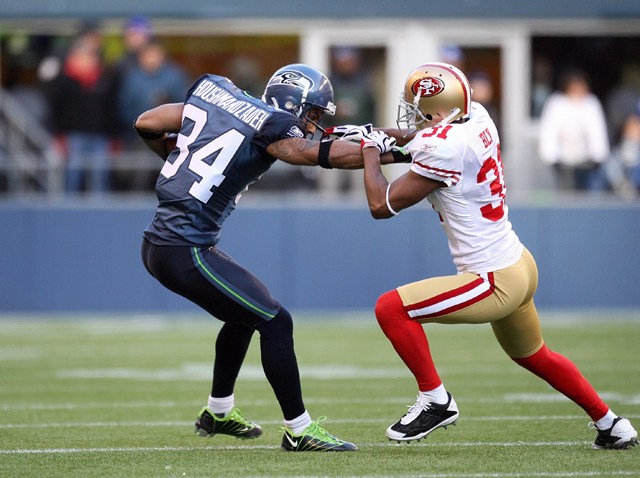 After a disastrous stretch late in the season, the Bears ended the season with a 17-13 win over the Vikings in Minnesota on Sunday afternoon. Roy Williams had four catches for 60 yards and Brian Urlacher injured his knee in the win.
Williams, who has been spotty over the course of the season, was a reliable target for back-up Josh McCown, including a 22-yarder for a touchdown early in the fourth quarter. Kahlil Bell, who had been so impressive last week against Green Bay, had just 54 yards and a fumble that set up a Vikings score. McCown finished the day with just 160 passing yards, an interception, and seven sacks.
Minnesota's starting quarterback, Christian Ponder, left early with a hip injury. His back-up, Joe Webb, turned out to be a difficult player for the Bears defense to handle. On several plays, he seemed headed for a sack, but was able to evade Julius Peppers, Israel Idonije and Amobi Okoye.
They did a better job picking him off. Charles Tillman returned an interception for a touchdown, and D.J. Moore caught a pick in the Vikings final drive. That interception sealed the game.
Chicago just barely avoided being on the wrong side of history. Jared Allen had three and a half sacks, breaking Minnesota's single-season sack record. If he had just one more, he would have had the NFL record.
Late in the fourth quarter, Urlacher and Major Wright collided while trying to stop a Minnesota touchdown. Urlacher's left leg bent awkwardly underneath him. He walked off the field under his own power, with the entire defense flanking him. Urlacher tried to remain on the sideline, and painfully celebrated as the Vikings botched a field goal. The Bears medical staff then insisted that he go to the locker room. Urlacher put his helmet on and walked down the tunnel.
Though it was a win, that injury was a painfully fitting way to end the Bears season that fell off a cliff so quickly. After starting 7-3, Chicago ends 8-8. An off-season of rehab and physical therapy awaits much of the team.
Copyright FREEL - NBC Local Media