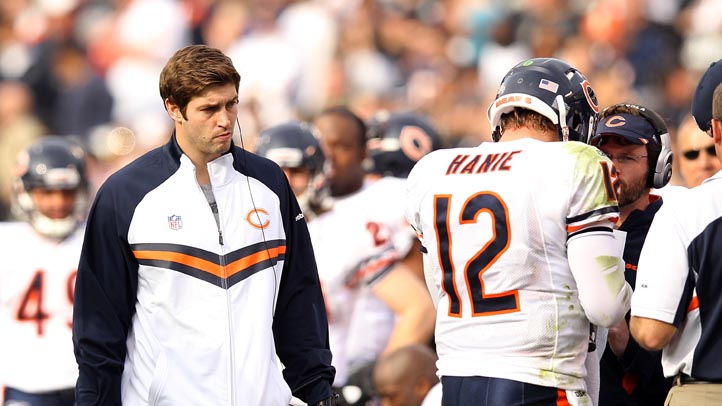 The Bears lost their first game without Jay Cutler, dropping a 25-20 lost to the Raiders. Though the Bears made a good charge for a win at the end of the game, stupid mistakes proved to be too costly.
Caleb Hanie's debut had bright spots, but glaring errors were too much to overcome. At the end of the first half, he forced a pass to Matt Forte in the red zone. Kamerion Wimbley picked it off and returned it 77 yards, stopped only by a clutch play by Lance Louis. Hanie connected with Johnny Knox for an 89-yard catch to set up the Bears for a score. That pulled the team within five points.
However, in the final snap of the game, Hanie took too many steps when spiking the ball to stop the clock, and the Bears were called for intentional grounding. That penalty resulted in a 10-second runoff, which ended the game. He finished the game 18-36 with two touchdowns and three interceptions.
The defense kept the Raiders out of the end zone for three and half quarters, when Michael Bush capitalized on a 47-yard catch by Louis Murphy. Carson Palmer was sacked four times, twice by Julius Peppers. The one turnover, an interception by Corey Graham, did result in a Bears touchdown, but it wasn't enough.
The game ended up being a showcase for special teamers. Sebastian Janikowski scored the majority of the Raiders points, kicking a Raiders-record six field goals. Robbie Gould was just as impressive, kicking 50 and 53 yard field goals.
With the loss, the Bears drop to 7-4. The good news is that the Lions also lost, so the Bears didn't lose ground in the wild card race. Next, they will face the Kansas City Chiefs at home next Sunday at noon.
View the story "Bears vs. Raiders" on Storify
]
Copyright FREEL - NBC Local Media