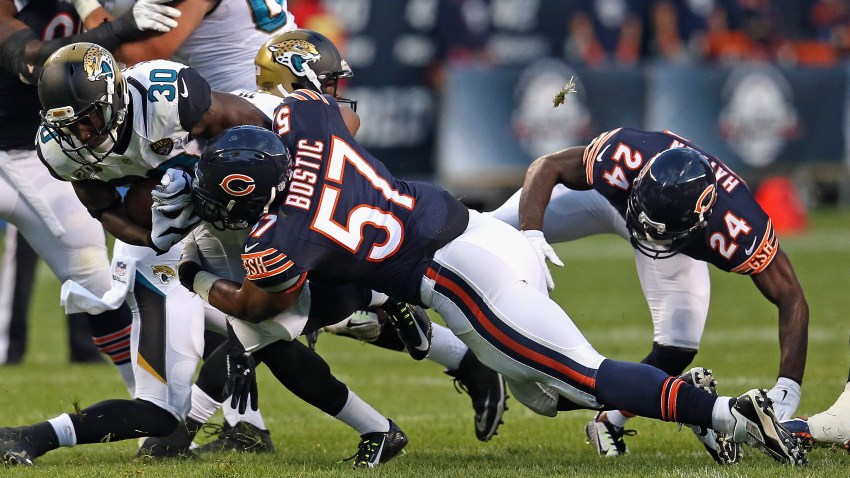 McClellin, Bostic Have Bounce Back Night Thursday
During the first week of the preseason, both Shea McClellin and Jon Bostic had rough nights for the Chicago Bears. They overpursued on runs, bit on play fakes, and were unable to shed blocks against a really tough Philadelphia Eagles group.
Against a less-talented Jacksonville Jaguars bunch on Thursday night, both players made strides while their teammates struggled with some of the same issues that had befallen the youngsters the previous game.
Two plays stood out in particular for the duo. On a second down and short on Jacksonville's first drive, Chad Henne handed the ball off to Toby Gerhart, who tried to punch it up the middle for the first down. Defensive end Lamarr Houston was forced to the outside by a nice block from Jaguars tight end Brandon Barden, leaving McClellin to contend with right tackle Austin Pasztor. Unlike last week when McClellin was routinely swallowed up on run plays, he was able to fight through the block and tackle Gerhart to prevent a first down run.
On the very next play, the Jaguars attempted a weak side pitch play, but it was diagnosed perfectly by Bostic. Playing out of the nickel package (meaning that he was one of only two linebackers on the field), Bostic absolutely destroyed Jaguars left tackle Luke Joeckel in a one-on-one showdown, and drilled Gerhart for another loss.
The Jaguars had to settle for a field goal from Josh Scobee to take the lead, but things could have turned out much worse for the Bears on that drive. Both players continued to do a good job of playing disciplined football through the rest of their stints in the game, and even though McClellin still has work to do in shedding blocks, and Bostic still has work to do in not overcommitting on the second level, they both made strides forward in this game.
Trevor Scott Continues to Impress
The Bears made defensive end Willie Young a late scratch from the lineup because of a knee bruise before the game, and one of the guys that came in to replace him made a compelling case that he should end up grabbing a roster spot over more established players like Nate Collins.
That player was Trevor Scott, who once again had a great game after having a tremendous outing against the Eagles last week. Even though his name doesn't appear on the scoresheet, he was instrumental in several plays. He had a sack wiped out thanks to a penalty on Kelvin Hayden (more on that in a moment), but on the very next drive he got more pressure on Henne, forcing him out of bounds on a second down passing play. On the next play, Scott once again forced the issue, getting around the block on the outside and forcing Henne into overthrowing his receiver, thus killing the drive.
That speed off the edge is something that the Bears sorely lacked last season, and even though Scott is going to be playing behind Jared Allen, he still could be a guy who could make an impact when he's subbed in for both nickel and standard 4-3 packages if he gets a roster spot.
NFL's Emphasis on Illegal Contact Already a Farce
Last week's game against the Eagles was a penalty-filled affair, and Thursday's game against the Jaguars had a similar tone. In all, the two teams combined for 21 penalties for 206 yards, and one of those penalties came back to cost the Bears in a big way. On a third down and long play late in the first quarter, Scott made his way around the edge and dragged Henne down for a drive-killing sack. Unfortunately for the Bears, Hayden was whistled for an illegal contact penalty down field, and the Jaguars got an automatic first down.
The NFL is wanting to crack down on illegal contact and illegal hands to the face penalties this season, and they have clearly been doing that in the Bears' first two games. On the Hayden play specifically, it had absolutely no bearing on the result of the play, so giving an automatic first down for something as innocuous as a receiver running into a defender is beyond ludicrous.
If the NFL is going to continue this farce of calling penalties on plays like that, then they need to remove the automatic first down from the equation. There is no way that what Hayden did should have resulted in wiping out Scott's sack (which was the second in three plays for the Bears' defense), and the official that threw the flag should get a stern talking to from the league for the imbecilic call.