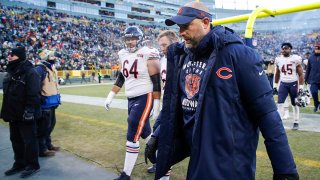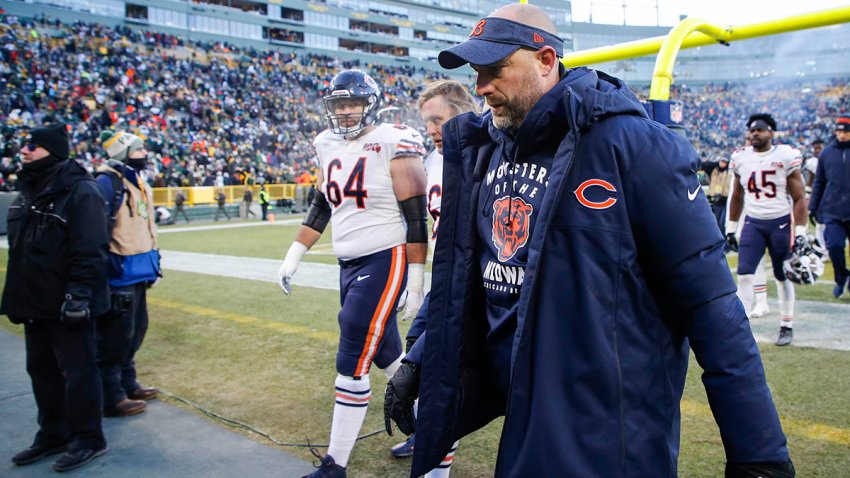 The playoffs are out of the picture for the Chicago Bears after Sunday's 21-13 loss to the Green Bay Packers.
Matt Nagy's second season as coach had resulted in a 7-7 record but nothing will change for the team going into its final two games.
Nagy said Monday the team will not sit out starters to look at other players against the Kansas City Chiefs on Sunday night. Mitchell Trubisky remains at quarterback and the idea is to play out the string as if they were still competing for a playoff berth.
"So my message to the guys is, we're rolling," Nagy said. "There's nothing that changes. It stinks that we can't get to the playoffs, but that's on us. We made this.
Bears vs. Packers: Week 15 in Photos
"Hopefully we learn from it and remember this feeling. But these next two games, to us, are very important and we're gonna play them hard."
The Bears won the division title last year at 12-4 in Nagy's first season.
"This is the first time that we're in this situation in the year and a half or two years that I'm here," Nagy said. "I know how our guys will respond."
Against the Packers, the Bears experienced many of the same problems they had offensively in losses prior to their three-game winning streak against the New York Giants, Detroit Lions and Dallas Cowboys.
It resembled their first game with Green Bay in the way the running game struggled, Trubisky had trouble throwing within the pocket and his offensive linemen struggled to block a persistent Packers pass rush.
It led to Trubisky openly questioning his coach's tactics for helping his blockers and moving the pocket.
"I felt like we could've taken more pressure off them moving the pocket a little more and getting me out," Trubisky said afterward.
Nagy said there were adjustments made to Green Bay's defense as the game progressed.
"We communicated that with the whole team and made adjustments on the fly," Nagy said. "I think for all of us, just the biggest thing, is just trying to do it together and execute everything that's there."
Copyright AP - Associated Press