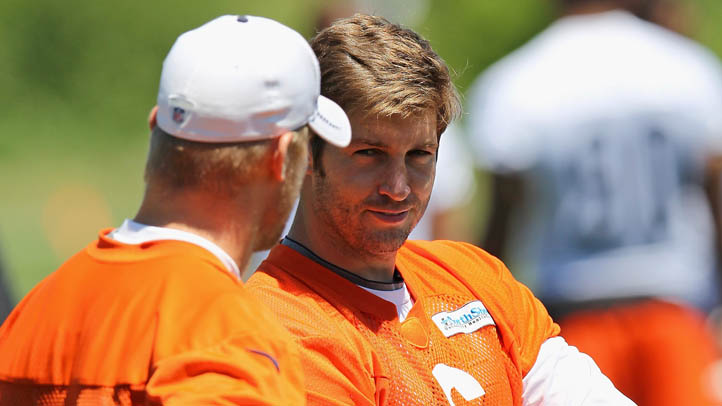 Bears quarterback Jay Cutler admits in his younger days he may not have taken to the intense coaching style of current Bears quarterbacks coach Matt Cavanaugh.
"I think I'm older," Cutler laughed. "A little bit more mature. He's a grinder."
Cutler arrives at the Bears practice facility before the other players to go over game film and game plans with Cavanaugh. Though the Bears quarterback admits it's not always easy, he understands Cavanaugh's method to his madness.
"He's a guy that comes in every single day looking to help me get better," Cutler said.
Bears head coach Marc Trestman brushes off suggestions of Cutler's quirkiness in the past and indifference to coaches.
"He's played in a lot of different offenses and been coached by some really good coaches," Trestman said, saying Cutler is a grinder too. "We spend a lot of time before the players, and then the rest of the team when the players are excused he's still with us engineering the game plan and customizing it to best fit him and the offense."
Cavanaugh agrees Cutler's football I.Q., coupled with his work ethic, make it a good working relationship.
"He's been great," he said. "As a former player you're always a little slow to embrace everything."
Cavanaugh is earning the respect of Cutler.
As a player, he was a backup to Hall of Famer Joe Montana, and has three Super Bowl rings despite never being the quarterback in those championship games.
Marc Trestman says it's Cavanaugh's experience that made him pair the two in the first place. That and the fact Trestman feels Cavanaugh is the type of guy you'd like to go to dinner with if he wasn't a football coach.
"He's been on teams with great coaches, he's been coached by great coaches, he's been around the league, so he's been a valued member of the NFL community who knows what it takes to be great," Trestman said.
Now whether or not Cavanaugh can prepare Cutler for the rolling coverage of the Steelers Sunday night has yet to be determined.
Matt Cavanaugh left Pittsburgh as Sugar Bowl MVP after quarterbacking Pitt as national champions in 1976.
His memories are fond of the state of Pennsylvania and its fans. Come Monday maybe Jay Cutler will feel the same way too.