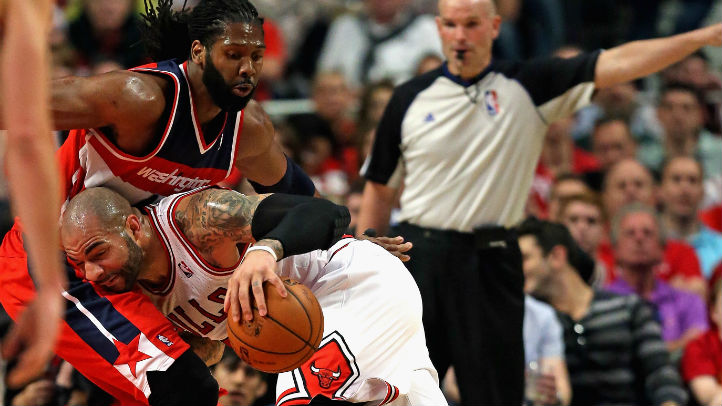 Nene dominated with 24 points, Trevor Ariza scored 18, and the Washington Wizards rallied from 13 down to beat the Chicago Bulls 102-93 in their playoff opener on Sunday night.
John Wall scored 16 in his postseason debut. Marcin Gortat added 15 points and 13 rebounds, and the fifth-seeded Wizards pulled out the victory even though they looked like they were ready to be blown out.
They cut a 13-point deficit to one in the third and trailed by three going into the fourth, before outscoring Chicago 18-6 over the final six minutes to come out on top in their first playoff appearance since 2008.
Game 2 is Tuesday.
Gortat's layup started the decisive run, and Trevor Ariza gave the Wizards an 88-87 lead when he hit a pair of free throws with 4:17 remaining. Jimmy Butler tied it for Chicago with one of his own, but a layup by Gortat and basket by Nene made it 92-88, and Washington hung on after Chicago's Joakim Noah cut it to two on a tip-in with 2:11 left.
Gortat hit two free throws and added a jumper with 34 seconds left to make it a six-point game, and the Wizards took the early lead in the best-of-seven series.
Copyright AP - Associated Press