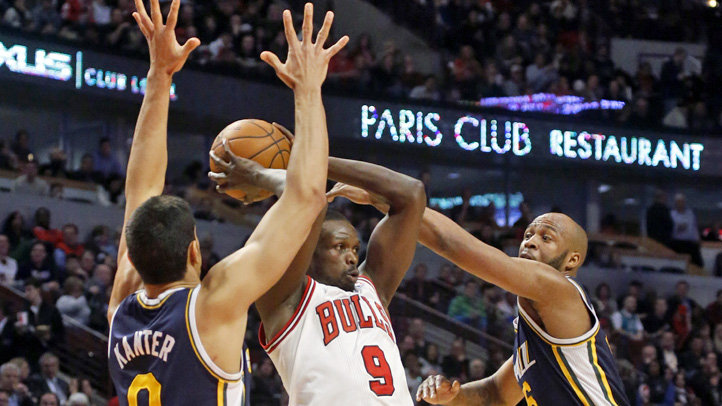 Marco Belinelli made a 3-pointer with 5.9 seconds left to lift the Chicago Bulls to an 89-88 victory over the Utah Jazz on Friday night.
Belinelli missed a potential tying jumper, but got a second chance when Joakim Noah grabbed the rebound. Jimmy Butler then swung the ball back out to Belinelli in the corner, and he connected on the fallaway 3 to put Chicago in front to stay.
Gordon Hayward missed a jumper on the other end for Utah, and Butler secured the rebound as the horn sounded.
Belinelli and Carlos Boozer had 22 points apiece for Chicago, which opens a difficult three-game California road trip at the Los Angeles Lakers on Sunday. Nate Robinson finished with 14 points and seven assists, and Boozer also had 10 rebounds.
Al Jefferson scored 23 points in his return to the lineup for Utah, which has dropped six of seven. Marvin Williams had 14 points and 10 rebounds, and fellow reserve Derrick Favors added 11 points and 10 rebounds.
Utah trailed by nine at halftime, but Jefferson and Williams combined for 19 points in the third quarter to get the Jazz back in the game. Favors then scored six points in a 10-0 run that gave Utah an 81-76 lead with 7:22 to go.
But short-handed Chicago managed to rally for a sorely needed victory.
The Bulls played without Taj Gibson, Kirk Hinrich and Richard Hamilton while they await a resolution to the soap opera surrounding injured All-Star Derrick Rose. Gibson is rehabbing a sprained left knee, Hinrich is out with a sore right foot and Hamilton is having a lower back issue.
Rose has been out all season after he tore the anterior cruciate ligament in his left knee in last year's playoff opener against Philadelphia. The 2011 NBA MVP continues to practice without restrictions, but his return from remains up in the air.
"He's been cleared to do everything there is," coach Tom Thibodeau said before the game. "Before he makes the final step, everyone has to get together and sign off. That hasn't happened yet. The most important part of this is that we have to trust Derrick, and I trust him."
The Jazz got Jefferson back after he missed three games due to a sprained left ankle, and the 6-foot-10 center had an immediate impact.
Jefferson got the ball on Utah's first possession and spun away from Noah for a dunk as the Jazz made their first five shots of the game. He had another big jam in the second quarter, driving in and throwing it down over Nazr Mohammed to give Utah a 37-35 lead.
Belinelli responded with a four-point play on the other end, helping the Bulls pull away to a 55-46 halftime lead. Boozer had 14 points at the break, and Robinson had 10 points, six assists and five rebounds in the first two quarters.
Copyright AP - Associated Press