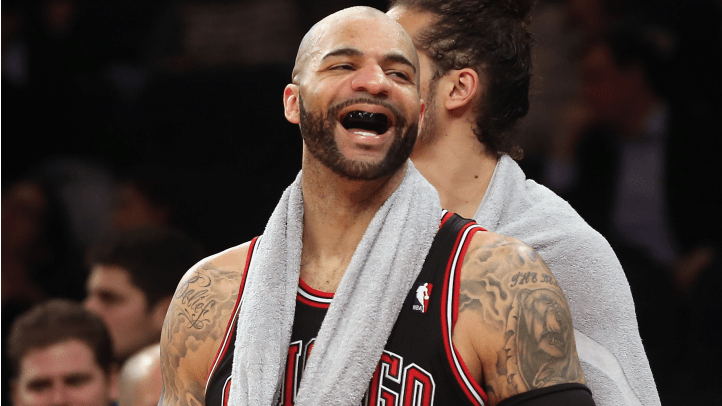 So if you're the Chicago Bulls, how do you follow-up a record-setting victory over the Atlanta Hawks Monday night? You go into Toronto to face the lowly Raptors and barely win in overtime, 107-105.
Chicago at one point had a 19-point lead over Toronto in the third quarter, but to use a decades-old cliché in the NBA: everybody makes a run. The Raptors did just that and came within a last second shot in the extra frame of scoring a huge win over the Bulls who now move to fourth place in the Eastern Conference with the win.
The Good
Carlos Boozer (36 points, 12 rebounds) continues to be the best player on the court for Chicago and his strong inside play has made a world of difference for the team of late. Joakim Noah (16 points, 14 rebounds) pretty much had his way inside as well. Rip Hamilton (15 points, five assists) had been struggling in his last few outings and the game against Toronto seemed to help him regain his rhythm. Luol Deng (19 points, six rebounds, seven assists), a bastion of consistency, knocked down the game winning shot in overtime with 3.3 seconds on the clock. The Bulls also dominated inside, outscoring the Raptors in the paint, 54-36.
The Bad
Blowing a 19-point lead to one of the worst teams in the NBA should probably be filed under "The Ugly," but hey, they won the game. The Bulls reserves didn't shoot the ball very well on Wednesday night, going 5-22 from the field.
The Ugly
Toronto's bench dominated Chicago's, outscoring them 66-18. Kirk Hinrich (3 points) continues to be a non-factor. The Bulls starting point guard has scored just four points in his last two games, shooting 1-6 from the field. Nate Robinson played just over 18 minutes in the game and the offensive spark off the bench went scoreless in the time, going 0-3 from the field. The Bulls now head into Boston to face a Celtics squad who, prior to Wednesday night's loss to the New Orleans Hornets, had won six games in a row.
Follow "Outside Shot" on Twitter (
@Outside_Shot
) for more Bulls news and information.