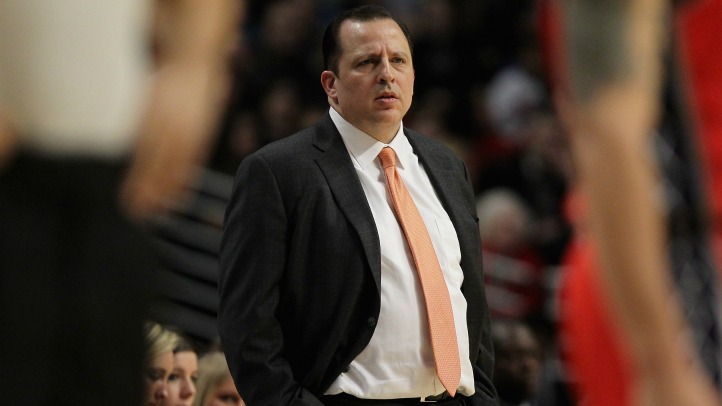 In just a few short years, Tom Thibodeau has been regarded as one of the best head coaches in the NBA. In four seasons, Thibs has guided the Bulls to the best record in the NBA twice, been to an Eastern Conference Finals, won Coach of the Year, coached an MVP and advanced in a playoff series despite being shorthanded.
Yet for all of these successes and accomplishments, people still find fault with Tom Thibodeau? The gripe? He plays his best players far too many minutes which – allegedly – leads to them getting hurt or injured.
The coach was indirectly blamed for Derrick Rose tearing his ACL, Joakim Noah's plantar fasciitis, and the annual physical breakdown of Luol Deng. But is the criticism unfair? Are these injuries merely coincidence and not directly tied to minutes played?
Former NBA head coach Stan Van Gundy certainly thinks so.
In an interview with ESPN's True Hoop, Van Gundy says that blaming minutes (and coaches) for guys getting hurt is completely unfair and without merit.
"I think the most frustrating thing for a coach is those kind of things. Where you're being criticized for things that have no basis in reality," Van Gundy said. "They're simply just opinions. We all got into this on the NBA level knowing, fairly or unfairly, we were going to be judged by winning and losing. And that's OK. But now you're Tom Thibodeau and you're winning. And you're still being judged because you're playing guys too much.
"My brother [Jeff Van Gundy] always asked the question: Does the human body really know the difference? Are you really more fatigued after having played 38 minutes over 36 minutes? Over the course of the year you're talking about, let's say it's 40 minutes over 36. You're talking over the course of five and a half months, a difference of 328 minutes on your body. Over five and a half months. Are you telling me there's an appreciable difference in fatigue at the point? I'm not buying that. But people just accept it."
Van Gundy says that players of old – who didn't have the advantage of today's advancements in medicine and science – had no problem playing a lot of minutes and routinely played every game during the regular season.
"Everything is set up better, and yet, they're not capable of playing the minutes or pitching the innings that guys did 30 or 40 years ago! I don't get that," he said. "And it's not like players are hurt less now than players in those years. Those guys used to play every day. They played 82-games, they played 40 minutes a game. Now, supposedly all these great improvements we made, our athletes aren't capable of doing that."
Obviously, there is no direct correlation between injury and the amount of minutes played, but that still hasn't ceased the speculation and it's why – fairly or unfairly – coaches like Tom Thibodeau will continue to get a bad rap.