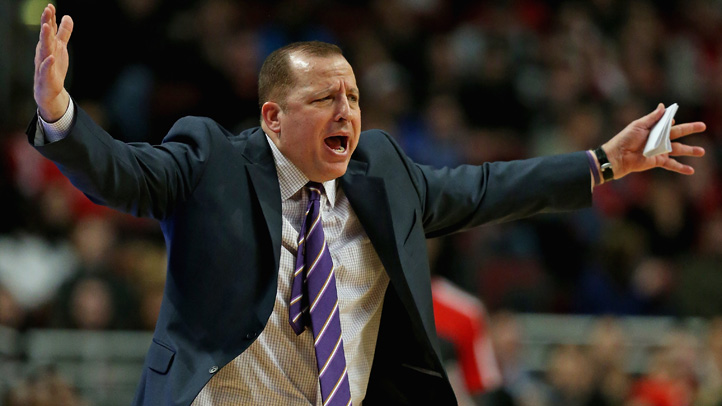 John Paxson thinks it's time to put all the stories of a rift between Tom Thibodeau and the Chicago Bulls front office to bed.
Yes, it's true that Thibs and Gar/Pax have had some philosophical disagreements, and yes there have been stories of the head coach leaving the Windy City for Gotham City to coach the Knicks as a result of these spats. But appearing on a local radio show Thursday, Paxson said the front office and the man running the team on the sidelines are both on the same page.
"To me, it's a dead issue," said Paxson on the Kap and Haugh Show. "You don't always agree, and that's the nature of the business. One of the funny things is that it just seems like if there is a different opinion between Gar and myself and Tom or anybody else, people want to make more out of it than it is."
Despite the rampant speculation that he could potentially leave town, Tom Thibodeau has steadfastly maintained that he likes what he has on the Bulls roster. And in spite of missing Derrick Rose for nearly two full seasons, he has somehow managed to keep the Bulls winning basketball games. Additionally, Thibodeau is in year one a four-year contract extension that he signed last season.
Of course that isn't exactly a guarantee that he'll see his current deal through to the end, according to Paxson, the Bulls have no plans to change head coaches now, or in the immediate future.
"[Thibodeau] said the other day he wants to be here, which is good. I hope that disspells a lot of the noise that's out there. None of this stuff is coming from us," Paxson said. "We think he's a terrific coach. Our guys respect him. He's going to be here and that's just the bottom line."
As for Thibodeau, the show of support by Paxson didn't seem to move him one way or the other.
"Nothing needs to be said. I talk to Jerry [Krause], I see John [Paxson], I see Gar [Forman]. We talk all the time," Thibodeau said. "It's just something that keeps coming up. No matter how you answer it, it'll keep coming up, so I don't waste any time with that."