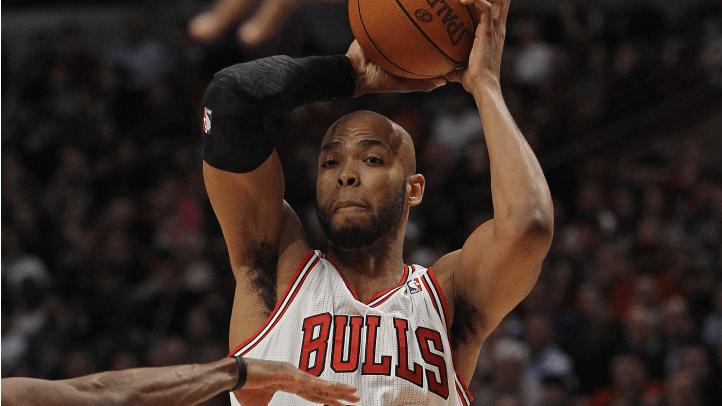 When we look back on it, the 2012-13 Chicago Bulls campaign will be the season most remembered for injuries. Luol Deng, Joakim Noah, Kirk Hinrich, Rip Hamilton, Marco Belinelli, Taj Gibson and of course, Derrick Rose, have been forced to miss games due to a bite from the injury bug.
Unfortunately for Gibson, he's been bitten twice in the same spot.
In the second quarter of Tuesday's game against the Washington Wizards, the forward took himself out of the game after his knee buckled on a routine play. The initial report is a sprain, but Gibson will have an MRI on Wednesday to find out exactly what the issue is.
"That's what happens when you rush back," Gibson told CSN Chicago after Tuesday's 90-86 loss. "I just did a basic rotation, tried to slide and it just buckled on me. It was real painful and I tried to just play through it, but I kind of got nicked up the last couple games, kept playing, came on the court and I just told Thibs to take me out, and I went to the back."
Gibson had been sidelined for 10 games in late February through mid-March with a sprained MCL and returned to the lineup on March 21 against the Portland Trailblazers. In the five games he's played since returning, Gibson had been playing pretty good basketball and the team seemed to be on the way to putting their health concerns behind them as they awaited Joakim Noah, Marco Belinelli and hopefully, Rip Hamilton to come back from injury as well.
"It's kind of difficult to put pressure on it, but that's how it is when you sprain it. I'm just hoping that nothing's torn, but it just basically feels the same as when I hurt it the first time," Gibson said before elaborating on his "rush back" comment.
"I just felt like the team needs me. We're playing for something special. If you can go, even 70 [percent], just go out there and try to do what you can do, and I'm the type of player that's going to go out there and play. If I'm hurt—there's a difference between being injured and hurt—but if I'm hurt, I'm going to go out there and try to play. But if I'm injured, then I'm sitting down. It's about pain tolerance and I kind of just pushed the issue, I guess."
Normal 0 false false false EN-US JA X-NONE /* Style Definitions */ table.MsoNormalTable {mso-style-name:"Table Normal"; mso-tstyle-rowband-size:0; mso-tstyle-colband-size:0; mso-style-noshow:yes; mso-style-priority:99; mso-style-parent:""; mso-padding-alt:0in 5.4pt 0in 5.4pt; mso-para-margin:0in; mso-para-margin-bottom:.0001pt; mso-pagination:widow-orphan; font-size:12.0pt; font-family:Cambria; mso-ascii-font-family:Cambria; mso-ascii-theme-font:minor-latin; mso-hansi-font-family:Cambria; mso-hansi-theme-font:minor-latin;} Follow Outside Shot on Twitter (@Outside_Shot) for more Bulls news and information