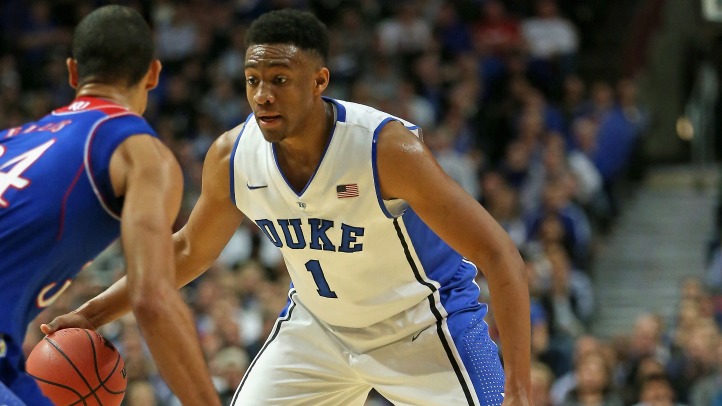 Many of the Chicago Bulls players were in attendance at the United Center on Tuesday night at the State Farm Champions Classic, and one player came away very impressed with Duke freshman Jabari Parker.
"It was good to see Jabari, one of the kids I've grown to know being in the Chicago area. I was extremely happy for him," said Taj Gibson told CSN Chicago after the team's practice on Wednesday. "I think he can play in the NBA right now. He's real humble, he works hard, he's team oriented, and he's a great kid off the court, so I'm happy for him."
Parker scored 27 points and grabbed nine rebounds against Kansas, but his Blue Devils came up short against the Kansas Jayhawks, losing 94-83, despite outdueling his freshman phenom counterpart, Andrew Wiggins. Many people have projected Wiggins to be the No. 1 pick in the 2014 NBA Draft, but Gibson says that may be premature.
"If I'm a GM, I would take Jabari [No. 1]," Gibson said. "He's inside-out, great on and off the court, and his work ethic and mentality -- not to judge any of the other guys; they're great talents, too -- but I just like what I saw out of Jabari last night, especially being the biggest player for Duke. He really reminds me of Carmelo. He's a big body, can dribble in and out, in and out of the post, and his three-point range is really great from what I've seen from him in high school, so you can tell he's been working on his game."