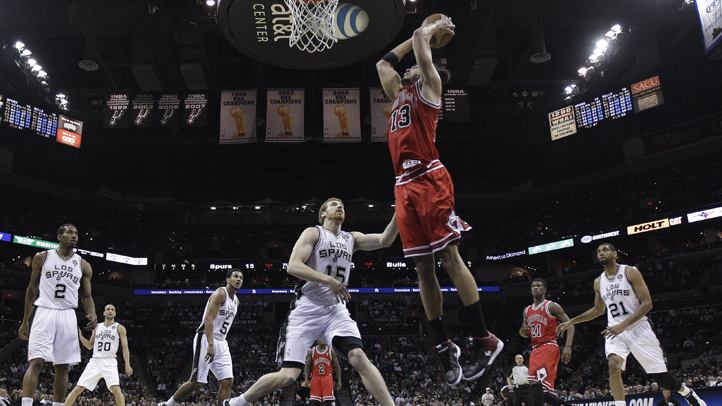 Tim Duncan had 18 points and 10 rebounds, and the San Antonio Spurs beat the Chicago Bulls 101-83 on Wednesday night in a matchup of teams missing their starting All-Star point guards.
Manu Ginobili added 18 points and nine assists, Tiago Splitter had 13 points and 10 rebounds, and Kawhi Leonard scored 14 points for San Antonio (48-14), which was playing its second game without Tony Parker.
Patty Mills provided a needed punch off the Spurs' bench, scoring 10 of his 13 points in the second half.
Parker is expected to miss about four weeks with an ankle sprain and Derrick Rose has yet to play for Chicago this season after undergoing major knee surgery.
Marco Belinelli had 21 points, Luol Deng added 19, Marquis Teague had 11 and Carlos Boozer 10 for Chicago (34-27).
The Bulls led by as many as 14 points before the Spurs rallied behind increased defensive activity. Chicago shot 8 for 31 in the first 18 minutes of the second half.
San Antonio chipped away at the lead in the third quarter, finally taking a 66-65 advantage on Boris Diaw's free throw that completed a three-point play.
Nate Robinson's 3-pointer put the Bulls back ahead, but the Spurs went on a 14-0 run to bridge the third and fourth quarters.
Deng's 3 ended the run, pulling the Bulls within 80-71 with 9:27 left in the game.
San Antonio was able to close out its third straight win at home, outscoring Chicago 54-31 in the second half.
Copyright AP - Associated Press