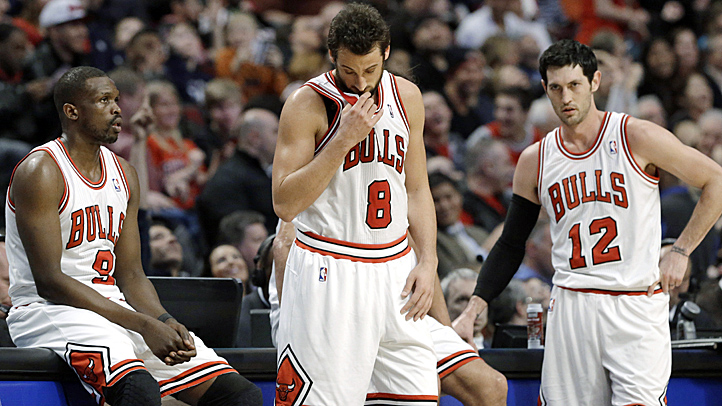 LaMarcus Aldridge scored 28 points, Damian Lillard added 24 and the Portland Trail Blazers completed a season sweep of the Chicago Bulls with a 99-89 victory on Thursday night.
Portland improved to 10-25 on the road to take the season series with the Bulls for the first time since the 2008-09 season. The Blazers beat Chicago 102-94 on Nov. 18 in their other meeting this season.
Joakim Noah had 18 points and Carlos Boozer added 16 points and 11 rebounds for Chicago, which shot 44 percent.
J.J. Hickson grabbed 21 rebounds for Portland, which held a 45-41 rebounding advantage.
Chicago led 21-20 after the first quarter, but Portland scored the first 14 points of the second quarter and outscored the Bulls 32-16 in the period to take a 52-37 lead at halftime. Aldridge led Portland with 16 points at the break and Lillard had 13.
Portland extended its lead to 28 in the third quarter before the Bulls made a late charge, outscoring the Trail Blazers 36-19 in the final quarter. Jimmy Butler scored 10 of his 12 points in the fourth quarter to help Chicago get within 10 points with under 34 seconds left.
The injury-plagued Bulls got Kirk Hinrich and Taj Gibson back. Hinrich started at point guard after missing seven games with a sore right foot. Gibson, a reserve, also returned after missing 10 games with a sprained MCL in his left knee.
Hinrich struggled, shooting 1 of 7 from the field for two points. He scored his first points on a layup with under five minutes left in the third quarter. Gibson was 7 of 14 for 14 points.
The Blazers shot 49 percent from the field and went 10 of 21 from 3-point range, led by Lillard's four 3-pointers. Nicolas Batum and Wesley Matthews each hit three 3-pointers.
Portland has beaten the Bulls in four straight meetings and won nine of its last 11 against Chicago. The Blazers had lost 14 of their last 16 road games before Thursday.
The Bulls fell to 3-6 in March, while Portland improved to 6-5 this month.
Aldridge grabbed eight rebounds to fall short of his sixth consecutive double-double. The Western Conference Player of the Week had averaged 26.8 points and 12.2 rebounds in his last five games.
While the Bulls got Hinrich and Gibson back from injuries, Derrick Rose remains out. Rose said during Thursday's shootaround that he isn't sure when he'll return from his knee injury. The former MVP point guard sounded like he might miss the entire season and said he's experiencing some soreness in his surgically repaired left knee. He had ACL surgery in May. Rose said he hasn't experienced any setbacks in his recovery.
"Nothing has changed," Bulls coach Tom Thibodeau said. "Go day to day. He continues to get better."
Copyright AP - Associated Press