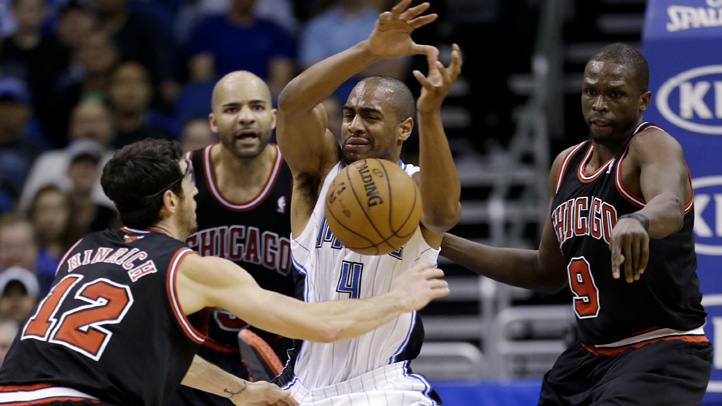 The Chicago Bulls haven't felt like themselves for much of the past few weeks.
They're hoping a much-needed win is the first step in finding their way back.
Carlos Boozer had a season-high 31 points and 11 rebounds, Luol Deng scored 23 points and the Bulls hung on to beat the Orlando Magic 96-94 on Wednesday night.
Taj Gibson added 21 points and 10 rebounds for the Bulls, who played without center Joakim Noah. Chicago was outrebounded 37-34 in Noah's absence but exploited an injury-plagued Magic front court, outscoring them 42-32 in the paint.
Jameer Nelson missed a leaning jumper in the closing seconds that would have tied it, sending Orlando to its seventh straight loss overall and fifth in a row at home.
"We're down. We've been shorthanded all season," Boozer said. "But this game we were without Joakim and I thought Taj came in and played a monster game. Luol was normal with his All-Star performance. We did a god job at the end being resilient ... We did a good job of when we needed to of getting stops at the very end."
Nelson returned to the lineup after missing two games with a sore hip and scored a season-high 32 points. Nik Vucevic finished with 20 points and 12 rebounds, and Arron Afflalo added 19 points for the Magic.
They dropped to 0-7 without Glen Davis, who could be sidelined for a few more weeks as he rehabs a sprained left shoulder.
"I think teammates would agree that there's no secret that Glen adds a different element to our team," Magic coach Jacque Vaughn said. "But ... it's about time for us to realize as a team that Glen's probably not going to play two days from now, so we need to continue to work together ... and muster the energy and approach still."
Vaughn rested forward Maurice Harkless for the second consecutive game. But he said it was simply a coach's decision to ensure the rookie, who was thrust into a starting role while Hedo Turkoglu was injured, is getting enough rest.
In the meantime, Orlando has just a handful of days to attend to its continuing shortcomings with the Atlantic division-leading New York Knicks visiting Saturday.
"That's something we need to do," Vucevic said of the Magic's fourth-quarter effort. "We never give up. We stick together as a team ... That's something going forward that is going to help us going down the road."
Despite Noah watching the game from the team hotel as he fought flu-like symptoms, the Bulls did get back guard Kirk Hinrich after he missed a game with a sore left knee. Hinrich's shooting ability and ball handling allowed them to spread the court and get some easy looks inside against the smaller Magic lineup.
They took advantage of the absence Davis, and a tender Gustavo Ayon (sore thigh), as Chicago's starting frontcourt of Deng, Boozer and Gibson outscored their Magic counterparts 75-30.
"It was better, but it's not what it needs to be," Bulls coach Tom Thibodeau said. "We had good offensive energy, and not the necessary defensive energy. It was better, but we still have to do much better than we did tonight."
The Bulls led by as many as 18 in the third quarter before a 13-6 run by the Magic trimmed it to 82-71 entering the fourth.
Despite its size disadvantage, Orlando held its own on the boards and stayed close down the stretch.
Nelson scored five straight points to cut the deficit to six and Vucevic dropped in back-to-back layups that trimmed it to 86-84 with 5:12 left.
Two shaky Magic possessions and a turnover allowed the Bulls to respond with eight straight points, pushing the lead to 94-84.
J.J. Redick hit a 3-pointer and a Vucevic got a dunk to give Orlando life, and following a Bulls miss, Redick found Afflalo, who swished a 3-pointer from the corner to cut it to 94-92 with 46.3 seconds on the clock.
The Bulls came up empty on their ensuing possession, and Gibson blocked a Nelson layup attempt out of bounds with only 11.3 remaining. Nelson then found a lane to the basket, but put up an off-balance, leaning floater that bounced off the rim.
Deng rebounded the miss and knocked down two free throws with 4.2 left to secure the win.
The Bulls' starting frontcourt held a 37-15 scoring advantage over the Magic in the first half, helping the Bulls build a 54-46 halftime lead. Boozer was the most active, scoring 17 points on 8-of-11 shooting. The Bulls also held a 20-14 edge on points in the paint.
"It was big," Gibson said. "We were down a lot of guys and we have guys banged up. We just have to come together as a whole and try to take each game one at a time. The way we got it down in the second half in in particular in the last quarter speaks volumes."
Copyright AP - Associated Press