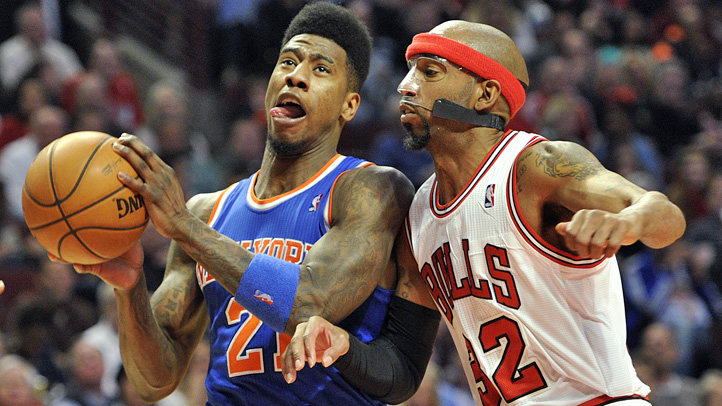 Nate Robinson scored a season-high 35 points and the Chicago Bulls stopped another lengthy winning streak, rallying to beat New York 118-111 in overtime Thursday night and end the Knicks' 13-game run.
Robinson came up big down the stretch, scoring eight points in the extra period.
Jimmy Butler added 22 points, Luol Deng scored 16, and the Bulls busted a long streak for the second time in about a two-week span, ending the Miami Heat's 27-game run — the second-longest in NBA history — on March 27.
They put the Knicks' longest streak in nearly two decades to rest with a huge surge in the second half, offsetting Carmelo Anthony's 36 points.
Robinson started overtime with a three-point play to give Chicago a 108-105 lead, and after Anthony scored, the Bulls started to pull away.
Deng nailed a 3-pointer, and Robinson hit a free throw after J.R. Smith got called for a technical foul with 2:09 remaining for arguing a non-call against Deng on a missed drive. The Bulls guard then drove for a layup to make it 114-107, and Chicago hung on from there.
Chicago trailed by as much as 17 and was down 79-64 in the third quarter before going on a big run to get back into it.
The Bulls were even up by nine — 99-90 — after a 3 by Robinson and layup by Butler with 5:42 remaining, but they did not get another basket in regulation.
The Knicks finally tied it at 105 with 14.5 seconds left when a driving Anthony got fouled by Butler and hit both free throws.
Deng then missed an off-balance fadeaway bank shot with 1.5 seconds left in regulation. New York's Raymond Felton grabbed the rebound, and after a 20-second timeout, Anthony's long jumper hit the rim and it went into overtime.
That ended the Knicks' longest win streak since a 15-game run from March 1 to April 2, 1994, and left them two games ahead of Indiana for the second seed in the Eastern Conference with four games remaining. New York plays the Pacers on Sunday.
Anthony, trying to become the first Knicks player since Bernard King in 1984-85 to win a scoring title, was off target in this one. He hit just 13 of 34 shots after averaging 40.6 points in the previous five games.
J.R. Smith scored 28 points and Raymond Felton added 19, but the Bulls hung on down the stretch in OT to complete the four-game sweep.
The win left fifth-place Chicago a half-game ahead of Atlanta in the East, and they can thank Robinson for that. He beat his previous season high by a point.
Deng finished with 16 points after sitting out the previous two games with a hip injury.
Copyright AP - Associated Press