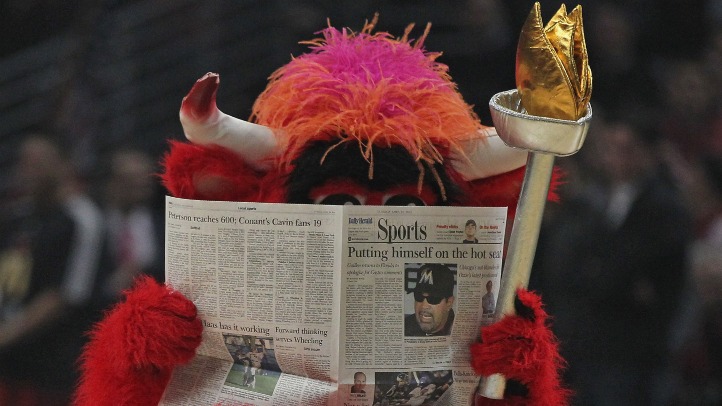 The 12th annual GM survey was released on Tuesday, and when it comes to the Chicago Bulls the home team didn't get a lot of love from the other 29 general managers around the league.
Chicago wasn't even given a chance to win the 2014 NBA Championship. That honor was given to the Miami Heat -- and rightfully so -- who received 76 percent of the vote. Surprisingly enough, the Indiana Pacers were the second favorite to win the title this season, garnering seven percent of the vote.
Chicago came in third in that category followed by the Los Angeles Clippers and Oklahoma City Thunder. Their percentages were not listed.
The Bulls received three percent of the votes when it came to which team would win the Eastern Conference. The top spot once again went to the Heat (86 percent) followed by the Pacers (10 percent).
In the Central Division, the GM's picked the Pacers to win with 52 percent of the vote with the Bulls receiving a 48 percent chance to win the division.
When it comes to the best point guard in the NBA, Chris Paul received 70 percent of the vote with Derrick Rose following behind him at 20 percent. On the defensive side of the ball, Joakim Noah came in second place (17 percent) behind Dwight Howard (47 percent) as the best interior defender in the NBA.
However, as a team, the Bulls were voted the best defensive squad in the league (43 percent), the only category in which they did receive the top percentage of votes. They were followed by the Pacers (33 percent) and the Heat (10 percent).
And in the best head coach category, Tom Thibodeau tied with Erik Spoelstra (seven percent) for third place behind new Clippers head coach Doc Rivers (31 percent) and the San Antonio Spurs head man Gregg Popovich (52 percent).
You can view the rest of the GM survey at NBA.com.