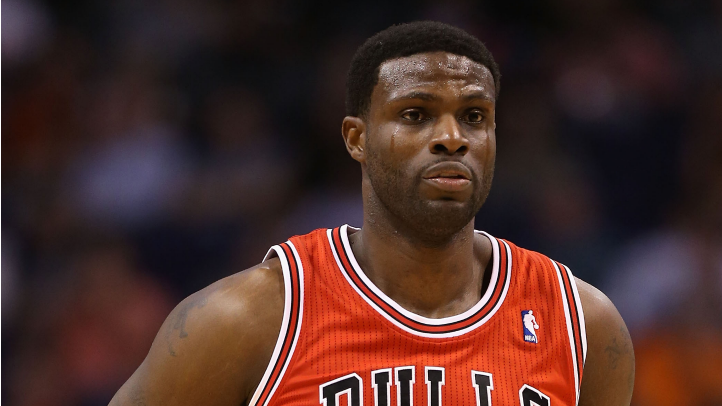 Nazr Mohammed isn't exactly known for being an enforcer in the NBA. The usually quiet and thoughtful big man is generally regarded as one of the nicest guys in the league.
But on Friday night in Game 3, "Big Naz" as he's sometimes referred to, snapped. After fouling LeBron James early in the second quarter in an attempt to stop a Miami Heat, the league MVP pushed Mohammed to the ground. After getting up, the 15-year veteran retaliated and forcefully shoved James to the ground, an act for which he was ejected.
After the game, both Tom Thibodeau and Mohammed disputed the ejection, feeling as if it was unwarranted.
"I don't think it warranted an ejection. I do believe it warranted a tech," said Mohammed. "I mean, just give a foul so a guy doesn't start a break. He pushes you, throws you down, sometimes instincts take over. But that definitely doesn't warrant an ejection.
"Guy's going on a steal on the break. You want to stop the break. I tried to stop the break, got tossed to the ground, got up, instinctively. I'm just so happy I didn't do anything else. I just pushed. Because I can't even recall — I had to come back in the locker room and watch it — because I couldn't even recall what happened. Because I was kind of pissed that he pushed me to the ground. It was a soft foul. It wasn't like I fouled him hard. You expect that when you foul a guy hard. You expect him to give you a little extra, but not on a soft, stop-the-break type foul."
"From my angle, I just saw a guy, basically flop, and I'm going to leave it at that," said Tom Thibodeau.
Nate Robinson wouldn't speculate on why Mohammed was kicked out of such a crucial game, but felt that perhaps because it was LeBron James who was on the receiving end, the refs made the call to eject the veteran big man.
"Who knows, man? That's our superstar of the league, so there you have it," said Robinson. "Naz is a quiet guy. My uncle and my father always told me the quiet ones are who you've got to worry about. So I wouldn't put it past Naz to move him out. Naz is a great guy, man, and sometimes, guys get frustrated."
Normal 0 false false false EN-US JA X-NONE /* Style Definitions */ table.MsoNormalTable {mso-style-name:"Table Normal"; mso-tstyle-rowband-size:0; mso-tstyle-colband-size:0; mso-style-noshow:yes; mso-style-priority:99; mso-style-parent:""; mso-padding-alt:0in 5.4pt 0in 5.4pt; mso-para-margin:0in; mso-para-margin-bottom:.0001pt; mso-pagination:widow-orphan; font-size:12.0pt; font-family:Cambria; mso-ascii-font-family:Cambria; mso-ascii-theme-font:minor-latin; mso-hansi-font-family:Cambria; mso-hansi-theme-font:minor-latin;} Follow Outside Shot on Twitter (@Outside_Shot) for more Bulls news and information