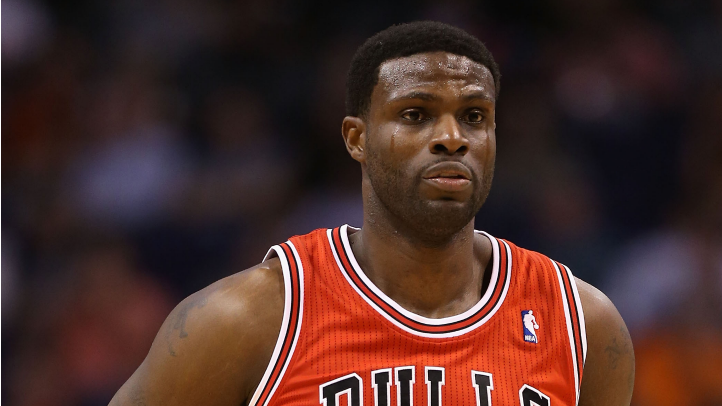 Who says you can't come home again? For Nazr Mohammed, coming back to play for his hometown Chicago Bulls was almost like his career coming full circle. Mohammed went from starring at Kenwood Academy in Hyde Park to winning two NCAA National Championships at the University of Kentucky and an NBA Championship with the San Antonio Spurs.
Mohammed joined the Bulls as a free agent last summer to be a backup for Joakim Noah after the departure of Omer Asik to the Houston Rockets. He appeared in 63 games this season, making 12 starts and averaged 2.6 points and 3.1 rebounds in 11 minutes per game.
His best game of the season came in a loss to Toronto in mid-April where he logged 16 points and grabbed 13 rebounds in 43 minutes of action on the court. However, the highlight of Mohammed's season came in Game 3 of the Bulls second-round playoff series against the Miami Heat.
Early in the second quarter, Mohammed became entangled with LeBron James just past half court. After being thrown to the ground by James on the play, Mohammed took exception and retaliated by shoving the four-time league MVP to the floor, to the delight of the United Center crowd who began to chant, "Nazr!"
Mohammed was ejected for his actions and the Bulls lost the game, but the shove immediately became an Internet sensation, prompting one fan to go so far as to make Mohammed his very own 'We Are All Watching' commercial. You've got to give a guy a good grade based on that alone.
Grade: C
Normal 0 false false false EN-US JA X-NONE /* Style Definitions */ table.MsoNormalTable {mso-style-name:"Table Normal"; mso-tstyle-rowband-size:0; mso-tstyle-colband-size:0; mso-style-noshow:yes; mso-style-priority:99; mso-style-parent:""; mso-padding-alt:0in 5.4pt 0in 5.4pt; mso-para-margin:0in; mso-para-margin-bottom:.0001pt; mso-pagination:widow-orphan; font-size:12.0pt; font-family:Cambria; mso-ascii-font-family:Cambria; mso-ascii-theme-font:minor-latin; mso-hansi-font-family:Cambria; mso-hansi-theme-font:minor-latin;} Follow Outside Shot on Twitter (@Outside_Shot) for more Bulls news and information