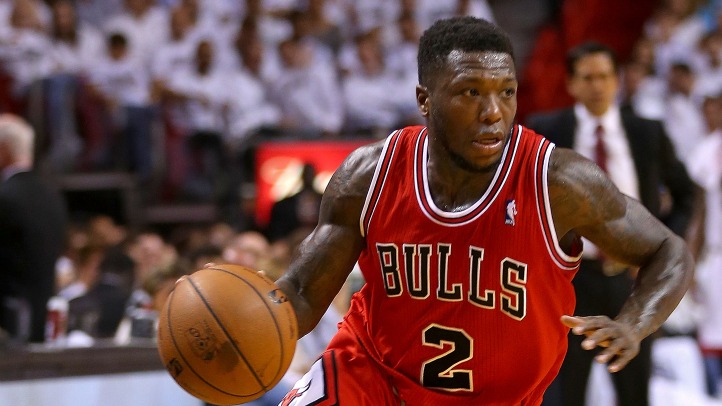 Nobody knew what to expect from Nate Robinson when he signed with the Chicago Bulls late last summer to a non-guaranteed deal. But the 5' 9" guard proved to be worth far more than a minimum salary player.
On many nights, the basketball court became lil' Nate's playground and the smallest guy on the team, who also just happens to have the biggest heart, won a lot of games for the Bulls this season. He scored 34 points against Brooklyn in Game 4 and singlehandedly put the team in position to win that triple-overtime thriller.
Sadly, the business side of basketball may cause Nate to wear a different uniform next season even though he would love to continue playing basketball in the Windy City.
"This is the best team I've been on," Robinson said after Chicago's elimination from the playoffs on Wednesday night. "This group of guys is very special. We worked hard every day. We brought it."
And at least one fan would like for the Bulls to bring 'Nate the Great' back next season.
An online petition called "Keep Nate Robinson in Chicago" was put together by a Bulls fan who says, in part, "Nate Robinson is an integral part of Chicago Bulls family. His energy, passion and scoring prowess have contributed heavily to the success of this team. Robinson, a seven-year veteran, has always showed flashes of genius, but it wasn't until this year with the bulls that he really seemed to come into his own."
Indeed he did. So much so that the NBA went so far as to make a commercial around his Game 4 heroics.
Who knows what the future will bring for Nate Robinson as it relates to the Bulls? He's obviously earned himself a pay raise plus job security in the form of a long-term deal next season based on his performance this season.
Hopefully that can happen here, but if it doesn't, Bulls fans will always remember the way that Robinson saved what was essentially thought to be a lost season.
Normal 0 false false false EN-US JA X-NONE /* Style Definitions */ table.MsoNormalTable {mso-style-name:"Table Normal"; mso-tstyle-rowband-size:0; mso-tstyle-colband-size:0; mso-style-noshow:yes; mso-style-priority:99; mso-style-parent:""; mso-padding-alt:0in 5.4pt 0in 5.4pt; mso-para-margin:0in; mso-para-margin-bottom:.0001pt; mso-pagination:widow-orphan; font-size:12.0pt; font-family:Cambria; mso-ascii-font-family:Cambria; mso-ascii-theme-font:minor-latin; mso-hansi-font-family:Cambria; mso-hansi-theme-font:minor-latin;} Follow Outside Shot on Twitter (@Outside_Shot) for more Bulls news and information