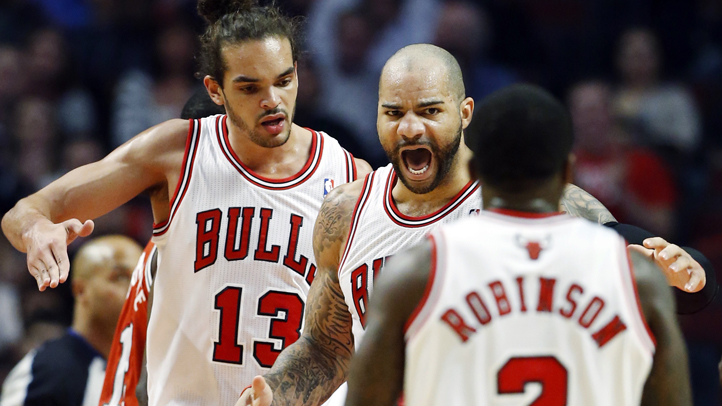 Brandon Jennings scored 20 of his 35 points in the third quarter and the Milwaukee Bucks beat the Chicago Bulls 104-96 on Wednesday night for their second consecutive victory under interim coach Jim Boylan.
Mike Dunleavy had 16 points and Monta Ellis finished with 14 for Milwaukee, which made 10 of 22 3-point attempts. Larry Sanders grabbed 12 rebounds and blocked seven shots.
Carlos Boozer had 22 points and 11 rebounds for the Bulls, who have dropped their last two games against Milwaukee at the United Center. The Bulls blew a 27-point lead in the third quarter as Milwaukee snapped a nine-game losing streak against Chicago with a 93-92 victory on Nov. 26.
Boozer has recorded a double-double in six consecutive games while playing some of his best basketball in three seasons with the Bulls. It's the best such streak for Chicago since Joakim Noah also had a double-double in six straight games in 2009.
The Bucks parted ways with Scott Skiles on Monday in what was called a mutual decision, and turned to his top assistant for at least the rest of the season. Boylan also served as an interim coach in Chicago when Skiles was let go during the 2007-08 season.
"It's funny, the first two games I'm gonna be coaching against teams I've been with," Boylan said before the game. "I've thought about it and I said 'I've been with a lot of teams, so it really doesn't mean all that much.'"
Boylan had to like what he got from his team against Chicago, especially what Jennings did in the third. The speedy point guard went 7 for 13 in the period, connecting on 4 of 7 from long range.
Jennings added a key floater in the fourth as the Bucks won for only the seventh time in their last 27 games against the Bulls.
Nate Robinson scored 19 points and Luol Deng added 18 for Chicago, which was seeking a season-best fourth consecutive victory.
Robinson got the start in place of Kirk Hinrich, who was sidelined with a right elbow injury. It was the fifth start of the season for the streaky guard, who made three 3-pointers and scored 13 points in the first quarter to help Chicago grab a 33-23 lead after one.
The Bulls still held a 10-point lead in the final seconds of the first half when Jennings connected from long range, slicing Chicago's advantage to 57-50 at the break.
Copyright AP - Associated Press