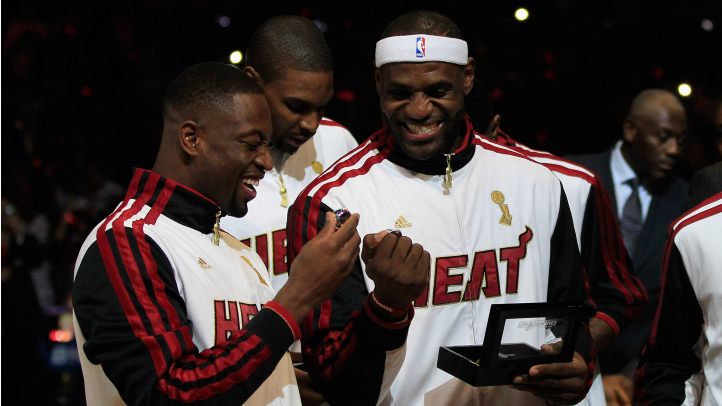 The Miami Heat will receive their 2012-13 NBA Championship rings on Tuesday night before they kick-off the NBA season against the Chicago Bulls. But don't expect their chief rivals to stand around and watch the Heat celebrate.
"That's their moment. We'll be in the locker room," remarked Tom Thibodeau after Monday's practice at the Berto Center. And it's unlikely he had to fight much with his team about remaining in the locker room until the Heat celebration concludes.
"I can't speak for everyone, but no, I don't want to be out there," said Luol Deng. "I'm happy for them. It's great for them, but it doesn't make sense for me to watch it."
"That's their ceremony. It's not ours," remarked Derrick Rose. "I'd see if we were getting our rings. It would be a little bit of a distraction, but for us, we know that we've just got to stay focused, come together as a team and really take their first hit because they're really going to be on charge."
Chicago has long been seen as the Miami's chief competition in the Eastern Conference, and not just in the media – it's something the Heat players have openly acknowledged as well.
That's why the games between these two squads are so intense and that intensity is one of the reasons why NBA fans everywhere will be glued to their TV sets on Tuesday night. The Bulls – in some circles – have been given a legitimate shot to dethrone Miami this season, but the book still needs to be closed on last season.
And the Bulls will have no problem waiting around until that's done.