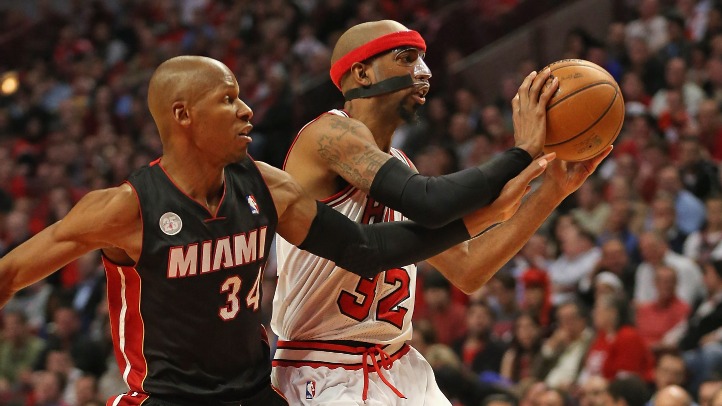 All throughout the Chicago Bulls' playoff series against the Miami Heat and the Brooklyn Nets, many people have asked, "Where is Rip Hamilton?" The veteran guard was taken completely out of Tom Thibodeau's rotation and couldn't be seen in any action even during the Bulls' triple-overtime victory over the Nets in the first round.
So perhaps it was pure desperation on the part of Thibodeau, but the coach actually played Hamilton in Game 4 on Monday night to the surprise of everyone, including Rip.
"Wow, I'm going in the game!" was Hamilton's response when Thibs called his number early in the second quarter. "I bet you all were thrown off, too! Hey, it's a crazy game. Sometimes you just have to be ready for that time."
For someone who has barely seen any action in the postseason, Hamilton looked OK, scoring 11 points and dishing out four assists. He didn't shoot the ball well, going 4-11 from the field, but that's to be expected since he only has gotten shots up in practices as opposed to actual games.
"It's just one of those things where we're already in the second round, so I've got to try to catch a rhythm fast. I've missed a lot of games," Hamilton said. "I missed the last 15 games of the year – played only three or four – but I didn't play a whole lot of minutes. So now I'm like thrown in the fire. You don't have any time to really think and you play off all instinct. That's what I tried to do tonight."
"Marco picked up his third, so we were trying to generate something and we need everyone," Thibodeau explained of his decision to play Hamilton. "I didn't think our team played great, but I liked the fact that he got in there and he made some things happen."
Hamilton still didn't seem to understand why he was yanked from Thibodeau's rotation. The coach had previously alluded to the veteran being hurt as the reason for his benching.
But to his credit, Hamilton never complained, he just tried to be as positive as possible and help the team in other ways. He also says he has no hard feelings about the situation whatsoever.
"You can't be bitter. This league has always been great to me. I have fun enjoying something that I love to do and that's play basketball. Sometimes it's going to go your way, sometimes you can't control it. I couldn't control it, so it's like, 'Hey, all right, you've got to deal with it.'"
Normal 0 false false false EN-US JA X-NONE /* Style Definitions */ table.MsoNormalTable {mso-style-name:"Table Normal"; mso-tstyle-rowband-size:0; mso-tstyle-colband-size:0; mso-style-noshow:yes; mso-style-priority:99; mso-style-parent:""; mso-padding-alt:0in 5.4pt 0in 5.4pt; mso-para-margin:0in; mso-para-margin-bottom:.0001pt; mso-pagination:widow-orphan; font-size:12.0pt; font-family:Cambria; mso-ascii-font-family:Cambria; mso-ascii-theme-font:minor-latin; mso-hansi-font-family:Cambria; mso-hansi-theme-font:minor-latin;} Follow Outside Shot on Twitter (@Outside_Shot) for more Bulls news and information