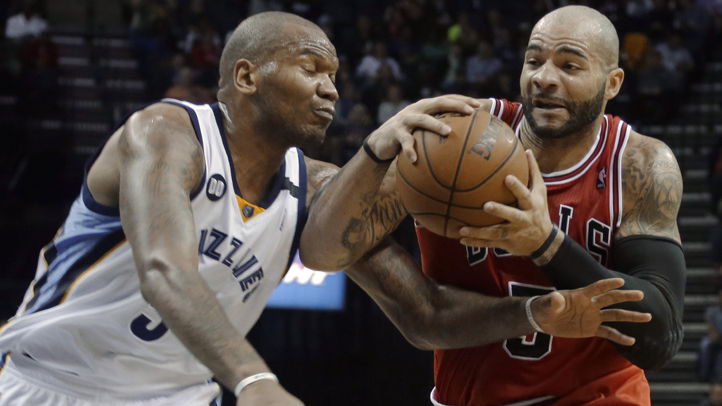 Mike Conley had 17 points, Zach Randolph added 10 points and 15 rebounds and the Memphis Grizzlies overcame a poor start to beat the Chicago Bulls 80-71 on Monday night.
Conley was 6 of 12 from the field and had four assists. Rudy Gay had 12 points for Memphis but shot 5 of 13, continuing his slump. Wayne Ellington scored all 11 of his points in the second quarter, when the Grizzlies reserves provided a lift after a sluggish first period.
Carlos Boozer led the Bulls with 16 points and 13 rebounds, while Marco Belinelli finished with 13 points. Luol Deng and Joakim Noah had 11 points apiece for the Bulls, but Deng was 4 of 17 from the field.
Both teams shot just better than 37 percent. But Memphis was 6 of 11 from 3-point range compared to the Bulls hitting only 2 of 11 long-range shots. The Memphis frontline of Gay, Randolph and Marc Gasol were a combined 10 of 34, while the Bulls starting frontline of Deng, Boozer and Noah made 16 of 42.
Memphis controlled the boards 51-39 and had 18 offensive rebounds.
The Grizzlies shot just 4 of 22 in the first quarter and had six turnovers in fall in behind in the first.
But the Memphis bench brought the energy in the second that was missing from the starters. Quincy Pondexter, Jerryd Bayless and Ellington contributed on the offensive end, hitting all five of their shots from 3-point range in the period.
Ellington had 11 points in the period to lead Memphis to a 39-34 lead at the break, the Grizzlies biggest lead of the half.
Boozer had 12 points on 5 of 9 from the field and grabbed eight rebounds for Chicago.
The leading scorers on both teams were struggling at that point. Deng, who averages 17.8 per game, was limited to four points on 2 of 7 from the field.
Gay, meanwhile, missed all six of his shots in the half and was scoreless.
Memphis extended the lead to 61-53 entering the fourth, as Conley scored seven in the third. Noah had six points for Chicago.
Marreese Speights would connect on a tip-in to open the fourth for the first double-digit lead of the game at 63-53.
Chicago turned up the defensive pressure at that point, becoming much more active in challenging the Grizzlies and pushing them to uncomfortable passes.
Offensively, the Bulls were trying to get Deng involved, but he hit only 3 of his 12 shots by the time the game reached the midway point of the fourth.
Chicago got within five points when Jimmy Butler scored on a breakaway dunk with 5:05 left. Memphis then extended the lead back to double digits, providing enough of a buffer for the Grizzlies to win their second straight.