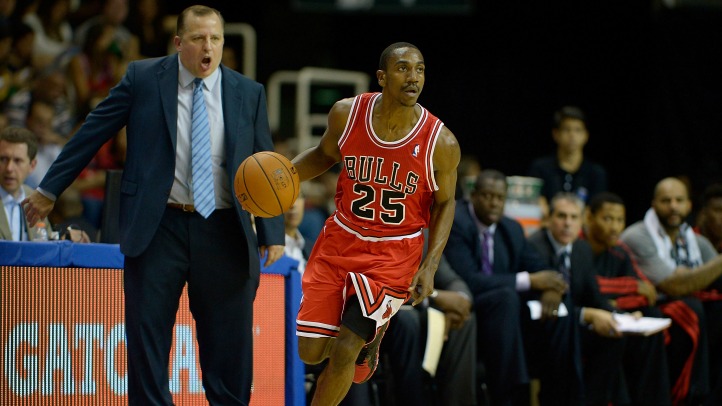 Marquis Teague has been seeing his minutes increase slowly as the preseason has progressed. After playing sparingly in Chicago's first few exhibition contests, Teague's 12 points and four assists marks his best performance of the preseason.
"I'm just getting more comfortable playing with these guys, just trying to play under control and run the team," Teague said after Monday's 105-84 blowout victory over the Milwaukee Bucks. "I think I'm all-around better – outside shot, I'm more under control – just a better point guard."
In the first half against Milwaukee, Teague got off to a hot start scoring 10 points on 4-7 shooting from the field in nearly 11 minutes. He cooled off in the second half as he shot 1-6 from the field, but Tom Thibodeau was pleased with what he saw, even though he says his point guard still needs to improve in certain areas.
"I think Marquis played very well in the first half," remarked Thibodeau. "He has to learn to read better at the end of the game. He needs to run the team a little bit better. Sometimes it's not easy because it can get choppy out there. Even with a big lead, the point guard needs to run the team."
Derrick Rose also sees improvement in Teague, especially over last season when he was a rookie.
"I think his confidence level was just down, and now he's getting the opportunity to play and play through his mistakes," Rose said. "As a rookie and being a point guard, you have to play through your mistakes. All these games we encourage him to do what he's been doing, and he's attacking."
Taj Gibson also says the biggest improvement he sees in Teague is confidence, and he attributes that to having to go up against one of the NBA's best point guards in Rose every single day at practice.
"You go against Derrick Rose every day you're going to have confidence," said Gibson. "He's going up there, taking on big guys. One thing about point guards that you can tell his confidence is there is even after he gets his shot blocked a couple times he's still going to the basket and getting smarter."