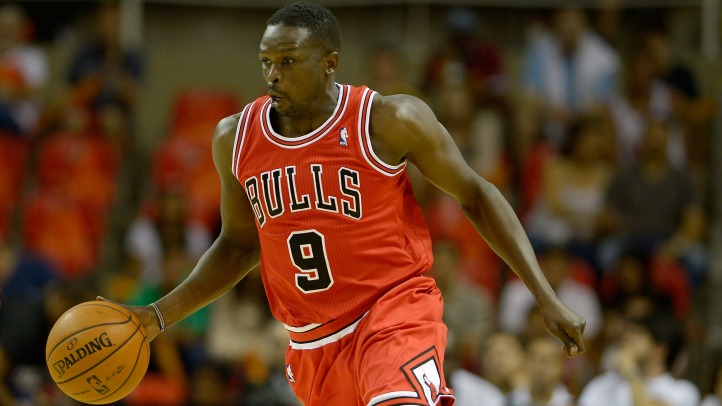 The injury bug bit the Chicago Bulls once again. Luol Deng sat out Saturday night's 92-75 loss to the Detroit Pistons with a sore left Achilles.
Ironically enough, the injury happened against the same Pistons squad that the Bulls beat on Nov. 27, and the two-time All-Star has been quietly playing through the pain ever since.
"A lot of swelling and it's still got a lot of swelling," Deng told CSN Chicago. "The way it happened, it's kind of weird. A guy fell, kind of stepped on the side of my leg, and kind of twisted my ankle. He stepped on my Achilles', like kind of tweaked it a little bit. That's how it really flared up to begin with."
Deng is the latest rotation player to miss a game due to injury as both Derrick Rose (meniscus tear) and Jimmy Butler (turf toe) have suffered injuries that have kept them out of the lineup. Deng underwent an MRI that showed no serious damage to his Achilles and he says that rest, ice and elevation are what's needed in order to ease the swelling and get him back on the court as soon as possible.
"I want to get back as soon as I can," he said. "We're going to just treat it these next two days and my mindset is to be ready for the next game. If I feel like I can run out there, I will play. I don't know about the minutes, I don't know how much I'll play. But just where it's good enough and comfortable enough where I can be effective out there."
Chicago will host the Milwaukee Bucks on Tuesday at the United Center.