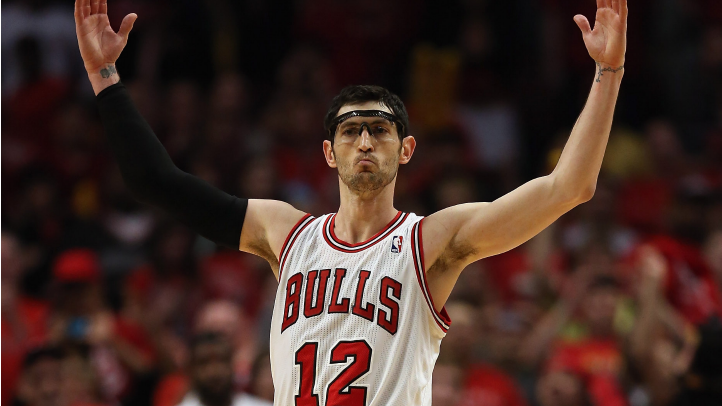 Kirk Hinrich's second run with the Chicago Bulls wasn't the disappointment that many thought it would be when the team brought the 10-year veteran back as a free agent last summer. With Derrick Rose – who personally recruited Hinrich to come back to Chicago – still recovering from knee surgery, the team needed a veteran point guard who could come in and run the team in his absence.
The former Bulls first round turned out to be a great choice. Oddly, Hinrich's impact and importance to the team wasn't seen in his individual numbers.
On the year he averaged just 7.7 points and 5.2 assists while shooting the lowest field goal and free-throw percentage of his career (38 and 71 percent respectively). Hinrich also wasn't very accurate from the three-point stripe, shooting just 39 percent from long distance.
But despite pedestrian statistics, the veteran was the engine that made the Bulls offense go and the difference was clear when he wasn't in the game, which turned out to be quite often.
Hinrich couldn't avoid the injury bug as he missed 22 games during the regular season with a variety of ailments, and eight of the Bulls 12 playoff contest – Games 5, 6 and 7 of the Brooklyn Nets series and all five of the games in the Miami Heat series.
Hinrich is under contract for one more season and he'll be the backup point guard to Derrick Rose, which should give the Bulls solid depth at the lead guard position as rookie Marquis Teague continues to develop. It should also help with his overall health, as he won't have to carry such a heavy minutes load as a starter.
Grade: B-
Normal 0 false false false EN-US JA X-NONE /* Style Definitions */ table.MsoNormalTable {mso-style-name:"Table Normal"; mso-tstyle-rowband-size:0; mso-tstyle-colband-size:0; mso-style-noshow:yes; mso-style-priority:99; mso-style-parent:""; mso-padding-alt:0in 5.4pt 0in 5.4pt; mso-para-margin:0in; mso-para-margin-bottom:.0001pt; mso-pagination:widow-orphan; font-size:12.0pt; font-family:Cambria; mso-ascii-font-family:Cambria; mso-ascii-theme-font:minor-latin; mso-hansi-font-family:Cambria; mso-hansi-theme-font:minor-latin;} Follow Outside Shot on Twitter (@Outside_Shot) for more Bulls news and information