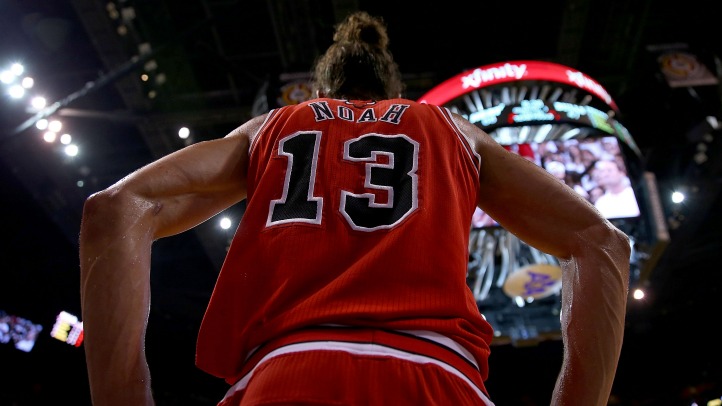 Generally speaking, Joakim Noah hates to lose. But more than that, the Chicago Bulls center hates losing to the Miami Heat. Even with LeBron James sidelined on Sunday with a broken nose, the Bulls couldn't overcome Miami's offensive attack, falling 93-79 to their chief rival which left Noah visibly frustrated after their five-game win streak came to an end.
"When we play the Miami Heat, our intensity has to be high the whole time. To me, that's what disappointing," Noah said after Sunday's game. "Those guys ended our seasons a lot. You gotta hate playing these guys. Every time we play them, our intensity has to be high. We did it in spurts. It wasn't good the whole time. And that's what's disappointing."
Noah finished the game with 20 points and 15 rebounds and for a while, the game appeared to be teetering either way. But Miami took command midway through the third quarter and never relinquished control. The Bulls shot 36 percent from the field in the game and their defensive intensity was uncharacteristically low.
"When you're missing shots, you can't allow that to take away from your intensity," said Tom Thibodeau before giving another one of his trademark sayings. "You have to play for 48 minutes. There's a lot of other things that you can do to help your team win."
And for Joakim Noah, that means playing with intensity from the opening tip to the final buzzer, especially against Miami.
"When we play the Miami Heat, our intensity has to be through the roof for 48 regardless if shots are going in or not," he said. "It has to be bigger. Of course you want to win the game but the way we're going to win is our edge and intensity has to be better than theirs throughout the game."