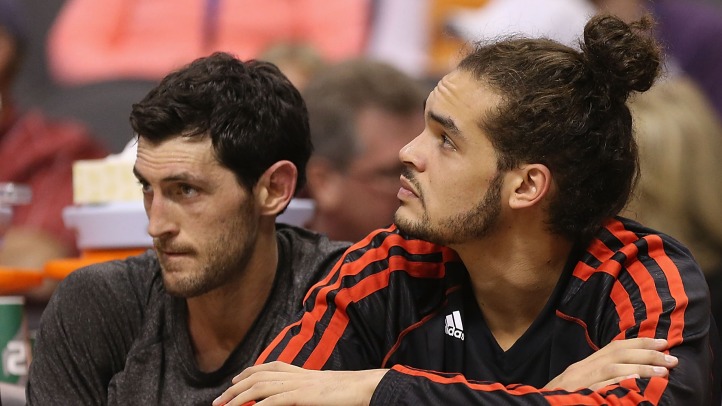 The Chicago Bulls have dealt with their fair share of injuries over the years and as a precautionary measure, but Joakim Noah and Kirk Hinrich were held out of practice for a second straight day on Thursday with minor soreness.
Overall, it was a short practice day for the Bulls due to humidity issues inside the Berto Center that affected the practice floor. Tom Thibodeau cut the day's session by 30 minutes because the court was slippery, but as it relates to Noah and Hinrich, Thibs wanted to err on the side of caution.
"I want to make sure they're completely healthy. We'll see where they are (Friday). They were a lot better (Thursday). But the floor was real slippery so I didn't want them to go because of that," the coach told the Chicago Tribune. As a result of the shortened practice time, many players either watched film or rode stationary bikes.
Hinirch is said to be nursing a sore back while Noah tweaked his groin.
The team is set to have their final practice on Friday before departing for Indianapolis to take on the Pacers Saturday night in the first preseason matchup of the year.