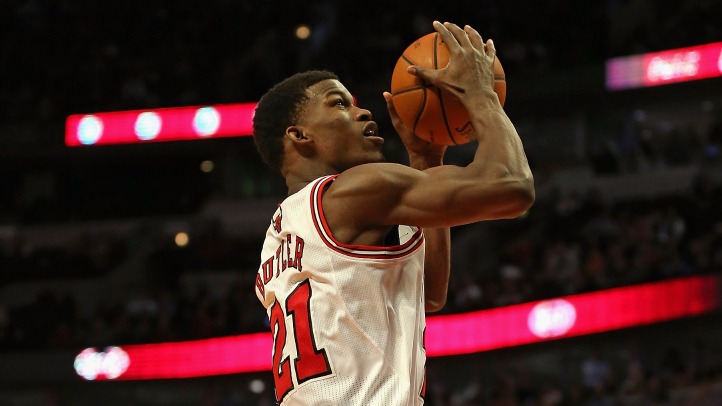 The matchup between the Chicago Bulls and Miami Heat lost some of its luster on Sunday as LeBron James and Jimmy Butler both sat out the game due to injuries. James suffered a broken nose on Thursday night against the Oklahoma City Thunder, and Butler bruised his ribs on Friday night against the Denver Nuggets.
Sunday's contest was Butler's 14th missed due to injury as he's also been sidelined with turf toe, a sprained ankle, a bruised thigh and bruised knee in the preseason.
"I haven't missed a game, let alone this many games in my career," Butler said to the Chicago Tribune. "It's tough. I didn't know it was part of it like this, but it is."
Butler injured himself after falling on Nuggets guard Aaron Brooks' knee on Friday. Luckily, he didn't sustain any breaks or fractures in his ribs, but the shooting guard is dealing with pain and difficulty breathing as a result.
"It wasn't a pleasurable moment," Butler said of the fall. "I'm doing everything I can to get back out there. It's crazy because right when I start to get into a rhythm, something like this happens … I just have to get comfortable moving and breathing normal again. But it damn sure hurts."