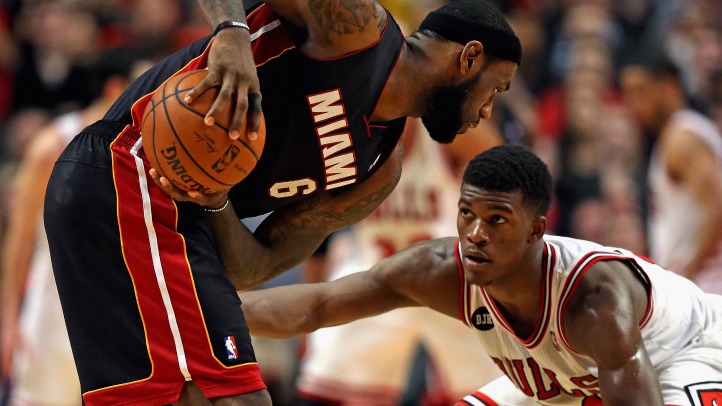 If familiarity breeds contempt, then that should explain why the Chicago Bulls and Miami Heat just don't get along. Since the 2010-11 NBA season, Chicago and Miami have been involved in some tense battles on the court. In fact, the Heat have eliminated the Bulls two of the last three years.
So when Jimmy Butler and LeBron James found themselves tangled up on the floor underneath the basket, reminiscent of Dennis Rodman and Karl Malone's NBA Finals tussle years ago, the dislike of these two combatants was on display for the world to see.
"I don't back down," Jimmy Butler said matter-of-factly after the Bulls 95-88 overtime victory. "Everybody in this league is an NBA player. LeBron is a really great player, but like I always say, I just play hard. I just want to prove to everybody that the little kid from Tomball deserves a spot in the NBA."
Butler's defense held James to just 17 points on 8-23 shooting from the field. And with the game tied up in the waning seconds and James having the ball in his hands to try and deliver the win for Miami, his drive to the basket was stripped by Butler, forcing overtime and leading to a Bulls victory.
"Jimmy is a fierce, fierce competitor," said Tom Thibodeau. "He's got great feet, strength, anticipation, intelligence. LeBron is a load. But the best thing about Jimmy is his demeanor. He'll do it over and over and over again. He does it playing big minutes and doesn't complain."
Said Joakim Noah, "Jimmy was a warrior today. He's one of those guys, too, when things aren't going his way, he can do so many things on the basketball court to affect winning, and you need guys like that."