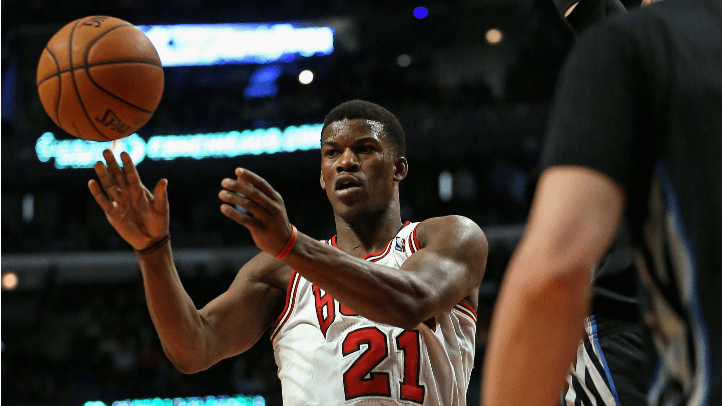 Jimmy Butler had been in a terrible offensive slump in mid-January. After Luol Deng was traded to the Cleveland Cavaliers in early January, Butler felt an increased responsibility to pick up the slack left by his mentor, and it wasn't quite working out for him that way.
Offense isn't Butler's primary specialty. He's a defense first kind of player who seems to be coming back around to understanding where his real strength lies.
"Whenever I let my defense dictate my offense, there's not a lot of thinking involved. It's just playing basketball," he said to CSN Chicago. "I think that's where it starts for me. Mike James was definitely the one that was telling me, 'Let your defense create your offense,' so when I do that and I don't think about offense, the offense comes."
Butler has quietly scored double figures in the Bulls last five games. And although Chicago has lost three of those contests, his teammates and head coach appreciate his non-stop effort, his commitment to helping the team as much as he can, and they're confident he'll find his offensive rhythm.
"You knew he was going to come around. Jimmy is a real hard worker," said Joakim Noah. "Jimmy had a lot of tough breaks early on, a lot of knick-knack injuries. The ankle, he got hit in the thigh real quick. Just because you're not out and you come back for a game doesn't mean it's gone, you know what I'm what saying? So he's been playing banged up, but I think he's feeling better and better, and getting more comfortable."
"Jimmy's going to be fine," Tom Thibodeau said. "Everyone's overreacting. Jimmy's got to go out there, play hard, got to get in the gym and he's got to shoot. Shooting comes down to two things mainly: confidence and your concentration. You put the work in and it's going to come around. I always say this: the magic is in the work. Get out there and work. Do that and the results are going to be good."
For now, Butler is focused less on trying to score points with his jump shot, and more doing the other things that can also help him put the ball in the basket.
"Once you start seeing the ball go in -- layups, mid-range, the three, however it may be -- you start to gain confidence. So I've got to just keep getting out in the open floor and getting layups," he said. "Just be aggressive. Whenever you're open, shoot. If you're not, pass. Get into the paint and get to the free-throw line. I think it's coming. If I just keep working and taking the right shots, eventually they're going to fall. I've just got to keep taking them."