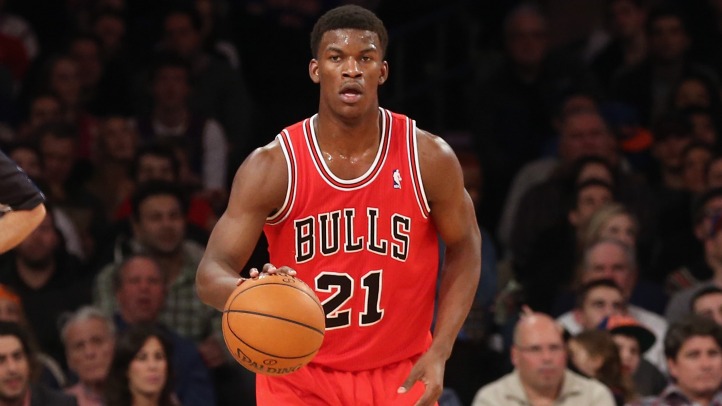 If Chicago Bulls fans are excited about the return of Derrick Rose, they should also be excited about his new backcourt mate, young upstart Jimmy Butler. The 23-year-old is preparing to enter his third NBA season as the team's starting two guard, giving fans their first look at what very well could be the backcourt tandem that helps lead this city to it's seventh NBA Championship.
At the start of last season, not much was expected of Jimmy Butler, and no one certainly would've imagined he'd be a pivotal piece of the Bulls rotation. But the Marquette alum always knew he wanted that responsibility and he also knew that playing for a guy like Tom Thibodeau, it wouldn't be easy.
"I had to keep working and show him that I wanted to play," Butler said on Tuesday as a guest on 'The Waddle & Silvy Show. "But he wasn't gonna give it to me, I had to earn it. And like my teammates always say, nobody wants to get injured, nobody wants to wish that on anybody, but if does happen, that next guy in line has to step up and be ready to go. And Thibs always said that. And it just so happens when someone went down, I did Ok whenever I got into the game."
And as his minutes and opportunities increased, Butler says his teammates -- including Derrick Rose -- kept him focused and kept his confidence up as well.
"When I started my first game against Memphis, I felt like I was ready because I had Lu in my ear and I had Derrick in my ear about just being confident," he said. "I feel like I played well that game (he finished with 18 points and eight rebounds) and ever since then, I just kept that mentality and they kept on me about it."
And now that his opportunity has arrived, Jimmy Butler understands that this is just the first step in achieving a much loftier goal that he has for himself in the NBA.
"I want to be great," remarked Butler. "I want to be the best. But I have to keep working in order to get there."