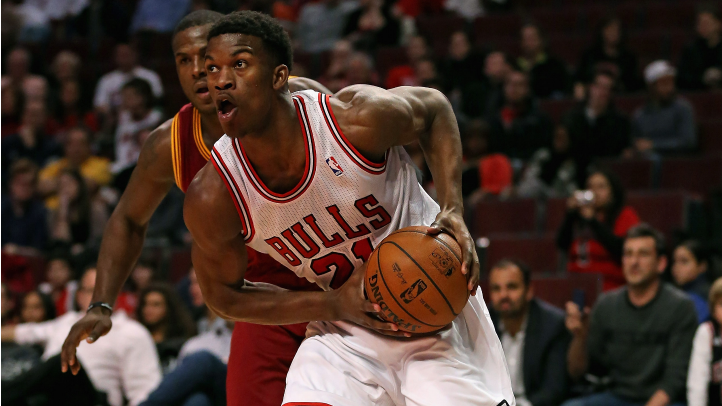 Despite campaigning and lobbying on the part of his teammates, it looks like Jimmy Butler won't be joining Luol Deng and Joakim Noah during the All-Star festivities in Houston next month. On Wednesday, the NBA announced the rosters for the BBVA Rising Stars Challenge (or rookie vs. sophomores game, if you prefer) and the second year Bulls player from Marquette was a noticeable omission.
Butler is having the best year in his still very short career. He has increased his stats in very single category and did an incredible job as starter when Luol Deng fell to injury. Overall, whether starting or coming off the bench, Butler is a key member of Tom Thibodeau's rotation and one of the reasons the Bulls are 27-17 without Derrick Rose.
Although he never said so publicly, Butler would have liked to participate in the event, especially considering he's from the Houston area. Here's a look at the players who were selected to play in the game, including Chicago's Anthony Davis.
Rookies
Harrison Barnes – Golden State Warriors
Bradley Beal – Washington Wizards
Anthony Davis – New Orleans Hornets
Andre Drummond – Detroit Pistons
Michael Kidd-Gilchrist – Charlotte Bobcats
Damian Lillard – Portland Trailblazers
Alexey Shved – Minnesota Timberwolves
Dion Waiters – Cleveland Cavaliers
Tyler Zeller – Cleveland Cavaliers
Sophomores
Kenneth Faried – Denver Nuggets
Kyrie Irving – Cleveland Cavaliers (also selected to play in the All-Star Game)
Brandon Knight – Detroit Pistons
Kawhi Leonard – San Antonio Spurs
Chandler Parsons – Houston Rockets
Klay Thompson – Golden State Warriors
Tristan Thompson – Cleveland Cavaliers
Nikola Vucevic – Orlando Magic
Kemba Walker – Charlotte Bobcats

The 2013 BBVA Rising Stars Challenge will be played Friday, Feb. 15, and televised live nationally on TNT at 9 p.m. ET and broadcast live on ESPN Radio, with live audio also available on NBA.com.
Follow "Outside Shot" on Twitter (@Outside_Shot) for more Bulls news and information.