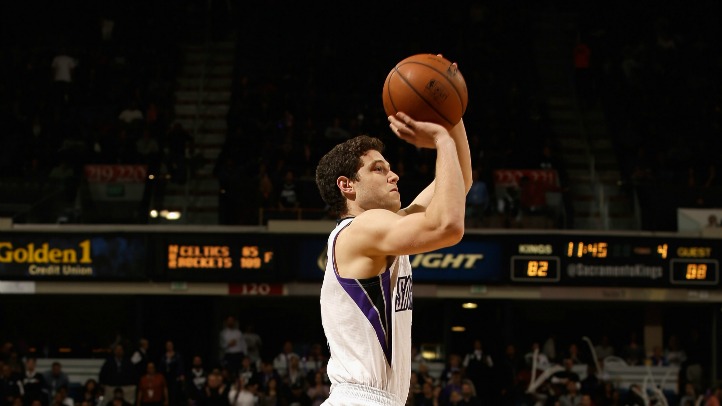 It only took Jimmer Fredette three minutes to score his first points in a Chicago Bulls uniform.
Literally hours after arriving in the Windy City and the team making his signing for the rest of the season official, Fredette, a former lottery pick, found himself basking in the adoring cheers of fans after a quick pull-up jumper in transition swished through the net in Chicago's blow out, 109-90, win over the New York Knicks in Sunday's matinee at the United Center.
"It was great. These guys did a great job the whole game and got a big lead, and I was able to get into the game," Fredette told reporters in front of his new locker, which once belonged to the now departed Luol Deng. "I don't know really know the plays or anything like that. I just knew a few simple things and ran those. But it felt good to get in there in front of the fans, and to have a great win like that was great for us."
Fredette finished the game with two points and two rebounds, and after making his first shot, his new teammates were just as excited as the fans.
"It's cool. I think he's excited, just getting an opportunity," said Joakim Noah who logged a triple-double against the Knicks. "He's done a lot of great things in college and even in 'Sac,' he wasn't able to go out there and show what he can do. But in Coach Tom Thibodeau's system, we all know that guards shine."
The Bulls, while being one of the most formidable defensive teams in the NBA under Thibodeau, struggles on the offensive side of the ball, especially with Derrick Rose being out. However, the team is hoping their newest acquisition can provide a spark offensively this season.
But for now, despite not even practicing with his new teammates, Jimmer Fredette is just happy for an opportunity to run with the Bulls.
"I just appreciate the fans and the support that I already have. This is a sports town. They love their sports teams here. They love the Bulls, every other team that's out here, so I appreciate it," he said. "I'm excited. I thought it was a great fit for me, to be able to come in and hopefully help spread the floor, and be able to give them an outside-shot presence. But I like the way that they play. They play really hard, they play for each other, they play as a team. So that's the style of basketball I want to play, and that's why I think it's a good fit."