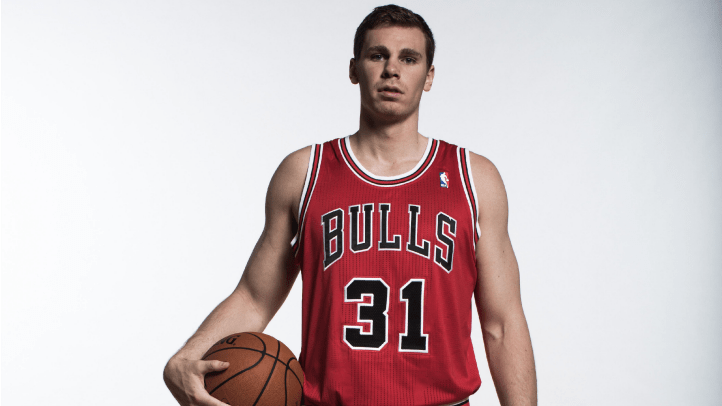 Despite being plagued by injuries this season, the frontcourt for the Chicago Bulls remains one of the team's deepest positions. With the likes of veterans Joakim Noah, Carlos Boozer, Taj Gibson and Nazr Mohammed, there aren't a lot of minutes to go around at either the power forward or center positions.
Unfortunately, that puts rookie Erik Murphy as the odd man out.
A second-round pick from the University of Florida in the 2013 NBA Draft, Murphy has watched his fellow rookie teammate Tony Snell have a chance to play due to injuries at the small forward and shooting guard position with both Jimmy Butler and Luol Deng being sidelined with ailments.
But the 6-10 shooter hasn't gotten down on himself and continues to work hard and stay ready should Tom Thibodeau call his number.
"Obviously I'd love to be out there … we're really deep at the forward spot and they're really good players. I've just got to be patient and keep working," Murphy told CSN Chicago after the Bulls victory in Brooklyn on Christmas Day.
His work in practice has caught the eye of his coach who praised Murphy for his contributions to helping push the starting unit in practice.
"[Murphy has] done fine. I really like our rookies because of their attitude and approach," remarked Thibodeau. "They have to constantly work, study, be ready. You never know when you get called upon. We've been so shorthanded that Murphy has played the three in practice for us.
"Their job is to bring energy to practice, be great in practice, get here early, study. You never know how things unfold. DJ [Augustin] is a perfect example of that. He wasn't playing at all and now all of a sudden he's playing a lot. Things always change in this league."
For now, though, Murphy is making the most of his time, both on the practice court, and picking the brains of the veterans on the team, and notnjust the ones at his position.
"They've been through it, so they definitely help a lot and they're always giving me little bits and pieces of wisdom, and trying to help me out and they've been great," he said. "I'm loving it. It's been great so far, learning from those guys. They're two great guys to learn from and not only them: Naz, Jo, Kirk, all the veterans. They're all great guys to learn from."