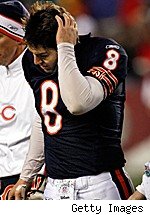 After seemingly being written off after stops in Indiana and Toronto, DJ Augustin has quietly revived his career since coming to the Chicago Bulls in December. After 55 games with Chicago, Augustin is averaging 14.5 points, 5.1 assists and came up big in the Bulls' victory over the Atlanta Hawks on Wednesday night, finishing the game with 23 points, five assists and two steals.
The point guard will be a free agent next summer and his play this season has almost assured that he will get a lot more than the $620,215 salary he's making this season. But Augustin, reluctant to comment on where his future will take him after this year, publicly stated that he would like to remain with the Bulls.
"I would love to be back here," Augustin said. "This organization, this team is great, and I think it's great for me. (Thibodeau) has given me the opportunity to play and get better. It's been great for me."
Both his teammates and Tom Thibodeau credit the point guard's play for the turnaround this season after Derrick Rose tore his meniscus in November, and all acknowledge and appreciate his headiness on the court.
"DJ can beat you in a lot of different ways," Tom Thibodeau said after Wednesday's victory. "He can beat you with the shot. He can beat you with the pass. He can beat you with his penetration. It's a big plus having him."
For now, DJ Augustin won't worry about what's going to happen beyond this season and instead will enjoy being a part of the Bulls locker room as much as they enjoy having him around.
"When the time comes," he said, "I'll let my agent handle it and just kind of relax."