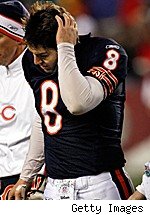 The acquisition of DJ Augustin has been a bright spot in what has been an otherwise dismal season for the Chicago Bulls this year. The point guard has ingratiated himself with coaches and his teammates for his heady play on the court and has been a key part of the team's recent success since the New Year.
Bus since joining the Bulls, Augustin now understands the secret behind the team's success and why when he wore an opposing uniform, why he had such a difficult time against them.
"Now I see. It's Thibs," Augustin told the Chicago Tribune. "It doesn't matter who is out or who is on the floor. Whoever is out there is going to have to play hard or you're coming out of the game. You play hard the whole 48 minutes, fight, play aggressive. This is how they, I mean, we play."
It's no secret that Tom Thibodeau has been the catalyst to Chicago's recent success and the players have bought into the, "we have more than enough to win," "next man up," and "do your job," mentality the coach has imparted on his players. Augustin has had an opportunity to witness first hand why Chicago can still compete, even when things look bleak.
"Just like I'm sure those guys did last season, we feel we have enough to do great things this year," Augustin said. "You have to feel that way to play well."
And the point guard is relishing his opportunity to play for one of the league's best coaches.
"The NBA is just opportunity and situation," he said. "Maybe those last two teams I was with wasn't the best situation for my game. I love playing with Coach Thibs and playing with these guys who are very smart and great players. It makes me look better."