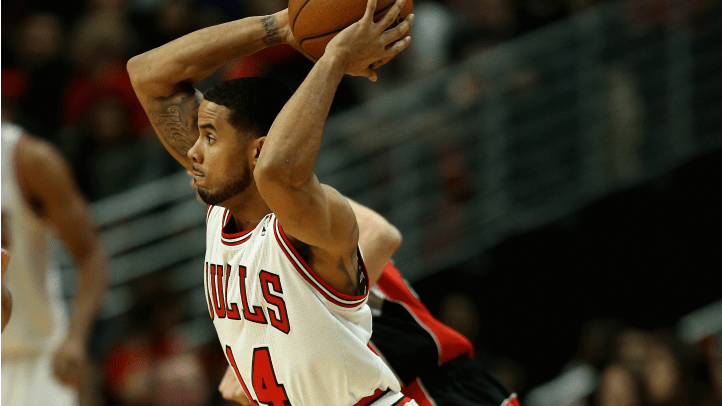 DJ Augustin had his best game since coming to Chicago in Monday night's disappointing loss to the Orlando Magic. Augustin scored 14 points off the bench and dished out eight assists in 37 minutes of action.
Marquis Teague got his second start of the season with Kirk Hinrich still dealing with back pain, but was yanked after almost 11 minutes as he was a virtual non-factor on the floor going 0-3 from the field and having no other stats to speak of.
Despite shooting 5-15 from the field, Augustin was aggressive and seemed to finally have found his place in the offense.
"I'm feeling more comfortable, the more games I play. I'm learning the plays. I think I know them pretty well now," Augustin said after the game. "It's the third game, so I think I know the plays pretty well now. The more games we play, the more practices we have, I think I'll get pretty familiar with them."
"I wanted to make sure he was comfortable enough with what we were doing out there, and he showed me that in the first half," said Tom Thibodeau of his decision to give the bulk of the lead guard minutes to the Bulls newest acquisition. "I actually was thinking about it this morning, but I wasn't sure he had enough of an understanding of what we were doing and I didn't want him to (be) tentative and so, I thought he was much more aggressive tonight. I like the effort that he put in defensively. I think there are things that he can do better, but I thought he put in great effort and that's what's important."
Augustin's teammates were also pleased with his performance against Orlando.
"DJ played great, and he got us in the offense. It's hard for him, he doesn't know all the plays. But he did a good job," said Luol Deng. "This is the NBA. It's not that easy to play that many minutes with a new team."
As for Teague, who appears to be on the outs in the rotation, Joakim Noah offered some words of encouragement.
"Marquis has got to keep grinding; Keep going," the big man said before giving his assessment of Augustin. "I think DJ is getting in the swing of things, learning the plays, learning the defensive system, and I think he's doing a good job."