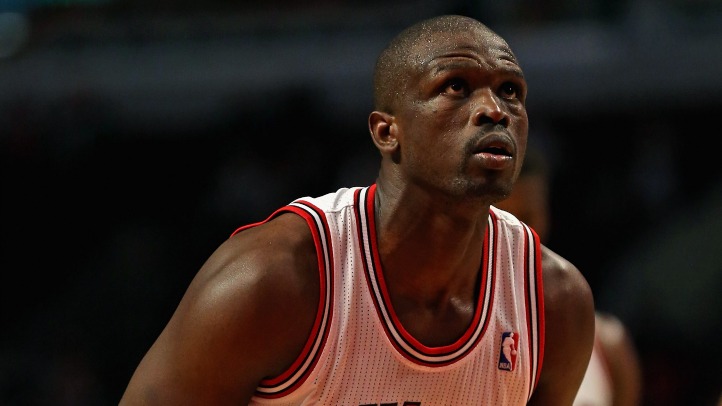 Luol Deng missed Sunday's loss to the Detroit Pistons with an injury to hip, and his value to the team couldn't have been more evident.

The injury, which Deng describes as a "bruise," happened in last Tuesday night's road game against the Washington Wizards.
After sustaining the injury, Deng wanted to sit out, but he knew the Bulls had big games coming up that they just had to win. So, as he's done every season, he played through pain for the good of the team.
And it worked out. The All-Star helped Chicago earn victories over the Brooklyn Nets and the Orlando Magic. So Sunday's contest against the Pistons seemed like an opportune time to rest.
Not only were Joakim Noah and Marco Belinelli coming back to the lineup, but the Bulls also held an 18-game winning streak over their Central Division foe. If there was going to be night to take off and try and get healthy, Sunday night was it.
But the Bulls came out flat and the Pistons capitalized, coming away wit a 99-85 victory, handing the Bulls another winnable game loss. And watching the action, it was evident just how much Deng's presence adds to the team's play on the court.
"The one thing about Luol is he gives you that edge. When he's out, we need people to step up to give us that edge. We have to get that back and get it back quick," Thibodeau told CSN Chicago after the game. "You guys are around. You see what that guy brings to the team. He's got great stats too. People say he's struggling. Struggling where? Look at what he's done the last 10 games. He's playing great for us and our team was playing great. You don't measure that guy by his stats. You measure him by what he brings to winning and the toughness and intangibles and leadership he brings to the team."
"If this was a playoff game, I would play," said Deng to CSN Chicago before describing the way the injury feels. "It almost feels like -- I wouldn't say bruised -- it's nothing serious, but it's almost locked, kind of. I feel it on my right side, on my back and I'm doing all these stretches on the bench. It's just been locking up on me in the games."
Deng sitting on Sunday was more of a precautionary measure than a sign of anything serious.
"It's just we don't want to get it any worse and I'd be sitting out longer,"
Chicago hosts the Toronto Raptors on Tuesday night and it's unclear if Deng will play or not, but if he doesn't Tom Thibodeau expects his team's "next man up" mentality to be a lot stronger than it was on Sunday.
"When he's out, we need other people step up," the coach said.
Normal 0 false false false EN-US JA X-NONE /* Style Definitions */ table.MsoNormalTable {mso-style-name:"Table Normal"; mso-tstyle-rowband-size:0; mso-tstyle-colband-size:0; mso-style-noshow:yes; mso-style-priority:99; mso-style-parent:""; mso-padding-alt:0in 5.4pt 0in 5.4pt; mso-para-margin:0in; mso-para-margin-bottom:.0001pt; mso-pagination:widow-orphan; font-size:12.0pt; font-family:Cambria; mso-ascii-font-family:Cambria; mso-ascii-theme-font:minor-latin; mso-hansi-font-family:Cambria; mso-hansi-theme-font:minor-latin;} Follow Outside Shot on Twitter (@Outside_Shot) for more Bulls news and information