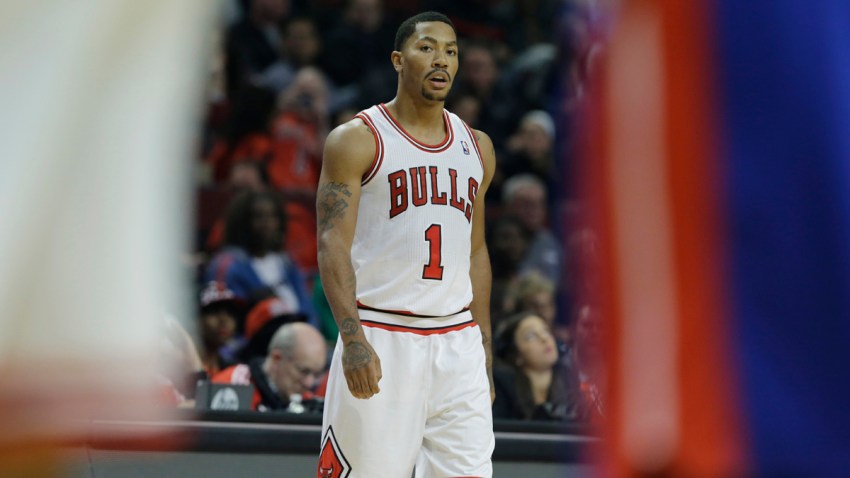 Derrick Rose's first appearance at the United Center since that infamous day last April where he blew out his knee brought out more people than you'd expect for a preseason game. From the national basketball writers to the fans who came out and packed the UC, it seemed that everyone wanted to say they were there when D. Rose played on the Bulls home court again.
And the former MVP didn't disappoint.
Rose scored 22 points on 6-9 shooting from the field in 22 minutes of the Bulls 96-81 victory over the Detroit Pistons on Wednesday night. He also shot 90 percent from the foul line, connecting on 9 of his 10 attempts.
"It felt good, playing out there, being in front of my home crowd again. Almost every one of these games at home is going to feel like a pro-am game, where every time I touch the ball, it's going to be some excitement," Rose said after the game.
Indeed at was.
As the first half came to a close, Rose broke down Pistons rookie point guard Peyton Siva off the dribble and hit a tough, driving layup as he was knocked to the ground on the play and fouled. When he went to the line to shoot his free throw, the MVP chants began to rain down from atop the arena.
"I was just trying to really be aggressive and at that time, I just did a move and that's the way I normally know how to play … I was just trying to do anything to get to the basket," Rose said of the play just before intermission.
"He looked like the old Rose," said Pistons head coach and Chicago native Maurice Cheeks. "IN front of our bench he got a handoff and in two or three dribbles he was at the basket. He was as fast as he ever was."
"He was aggressive throughout," said Tom Thibodeau on the play of Rose. "Basically, we've been seeing that in practice all along. That's the good part. You're starting to see him find some rhythm too, which is good. The moves, the power, the explosion, the change of direction, that's been there all along. Now he's got better balance to what he's doing. So I think he's finding a rhythm."