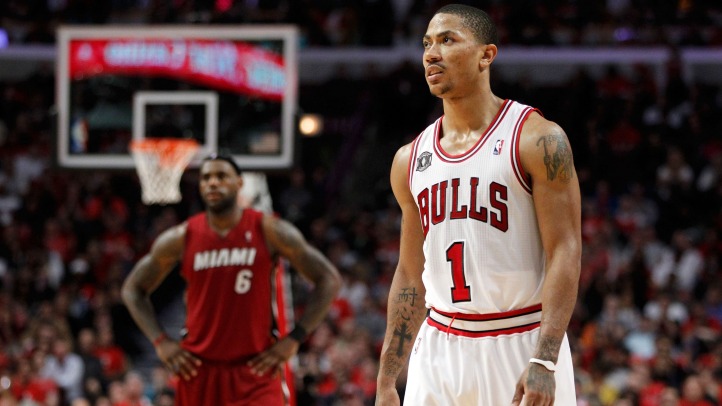 The Chicago Bulls are gunning for an NBA Championship this season, a feat that many pundits -- if you don't count the other 29 general managers around the league -- feel the team has a real shot at achieving.

And according to Bulls.com writer Sam Smith, he feels that Derrick Rose, if healthy, has a shot at being named the NBA's most valuable player once again.
"LeBron James is going for an unprecedented five [MVP awards] in six years. He's terrific. He's not that good," said Smith in a recent column. "If I'm correct and the Bulls win more games than Miami, Rose should get it. Plus, the Bulls should have a chance at 60 wins. Which makes for a measure: 45 without Rose last season. Plus, LeBron and Kevin Durant play with much better second players than Rose. The way Rose has played in the preseason, he looks like an MVP again and should be."
D. Rose pretty much dominated the preseason, scoring at almost a point per minute pace. Of course the intensity of games will go up much higher during the regular season, even more so when you factor in the Bulls and Heat will face-off to kick off the 2013-14 NBA season.
With an MVP already under his belt, Rose has consistently said that his only focus this year is on bringing another championship to Chicago. And although he hasn't said so publicly, you get the feeling that another MVP trophy that doesn't come with a Larry O'Brien trophy to bookend it won't be enough to satisfy the 25-year-old South Side native.
This year, it's championship or bust for the Bulls and it seems that nothing else will suffice for Derrick Rose, or his teammates.