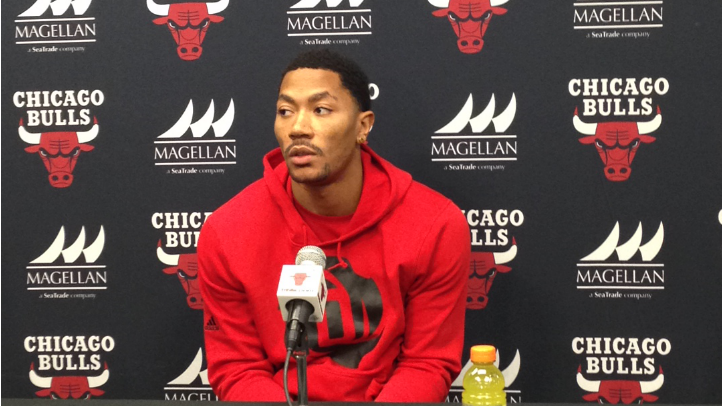 Derrick Rose has taken a lot of flack for his refusal to recruit players to join him in Chicago to help the Bulls compete for another championship. And whether he realizes it or not, with the trade of Luol Deng and the possible amnesty of Carlos Boozer this summer, the pressure on D. Rose to recruit will be higher than ever in the coming months.
In fact, it's already started.
There have been a number of local stories written that in addition to focusing on his rehab, Rose should also start picking up the phone and calling some of the players who will be in the upcoming free agent class of 2014. Players like LeBron James, Carmelo Anthony and Chris Bosh.
Never mind that James may not ever leave Miami, Bosh wouldn't exactly be a fit at the power forward spot since Carlos Boozer will probably be amnestied in order to bring over Nikola Mirotic, Anthony has a reputation for being a 'black hole' and the Bulls – who don't exactly have a stellar reputation with players around the league – have never made a splash in free agency to begin with.
No, Bulls fans just want Derrick Rose to take a more active approach in helping to improve the team going forward.
Much of this pressure stems from the way the Miami Heat came together in 2010, a union that has resulted in them winning the last two NBA Championships. And that's all that fans see; a vision that in itself is shortsighted because what the Heat did is the exception, not the rule or the "new normal."
But that won't matter to a fan base that has already seemed to turn on their homegrown superstar since he tore his ACL last April. They don't care about the harshness of the new CBA, luxury taxes, repeater taxes and the fiscal responsibility that all NBA front offices must now adhere to more than ever before. They just want to know what Derrick Rose is doing to try and convince other players to come to Chicago.
And the sobering reality is that D. Rose is probably never going to change his stance regardless of what the Bulls fan base wants him to do. I, for one, would rather see him change his position on playing pickup in the summer as opposed to his position on recruitment.
I feel that's way more important since he is coming off two knee injuries and like it or not, he's going to have to adjust his game for the sake of having longevity in the league because he can still be an impact player in the NBA.
But I guess that's just me.